If you want to feel refreshed, both mentally and physically, in just an hour, goat yoga and farm animal yoga are for you. While such yoga is hard to find, especially around the Midwest, you can find them in Festival Country Indiana, just south of Indianapolis.
I went to Tagalong Farms Boutique and Gifts in Franklin, a store that sells goat milk beauty products made from goat milk that comes from their farm. The store also offers goat yoga, with playful baby goats joining the group as they do yoga poses, at 10 a.m. Saturdays from April to October under the outdoor pagoda (or pa-goat-a).
And, one Saturday a month, they amp up their offering with farm animal yoga, featuring baby goats, chickens, ducks, rabbits, cats and a potbelly pig. I took the first ever farm animal yoga class and found that the cute creatures took my mind off the fact that I was benefitting from the strength building and flexibility enhancing that yoga provides.
Yoga instructor Chia Bush, of Studio You Yoga in Greenwood, comes to Tagalong Farms Boutique to teach among the people and animals. Bush said yoga is therapeutic, and adding animals makes it even more so.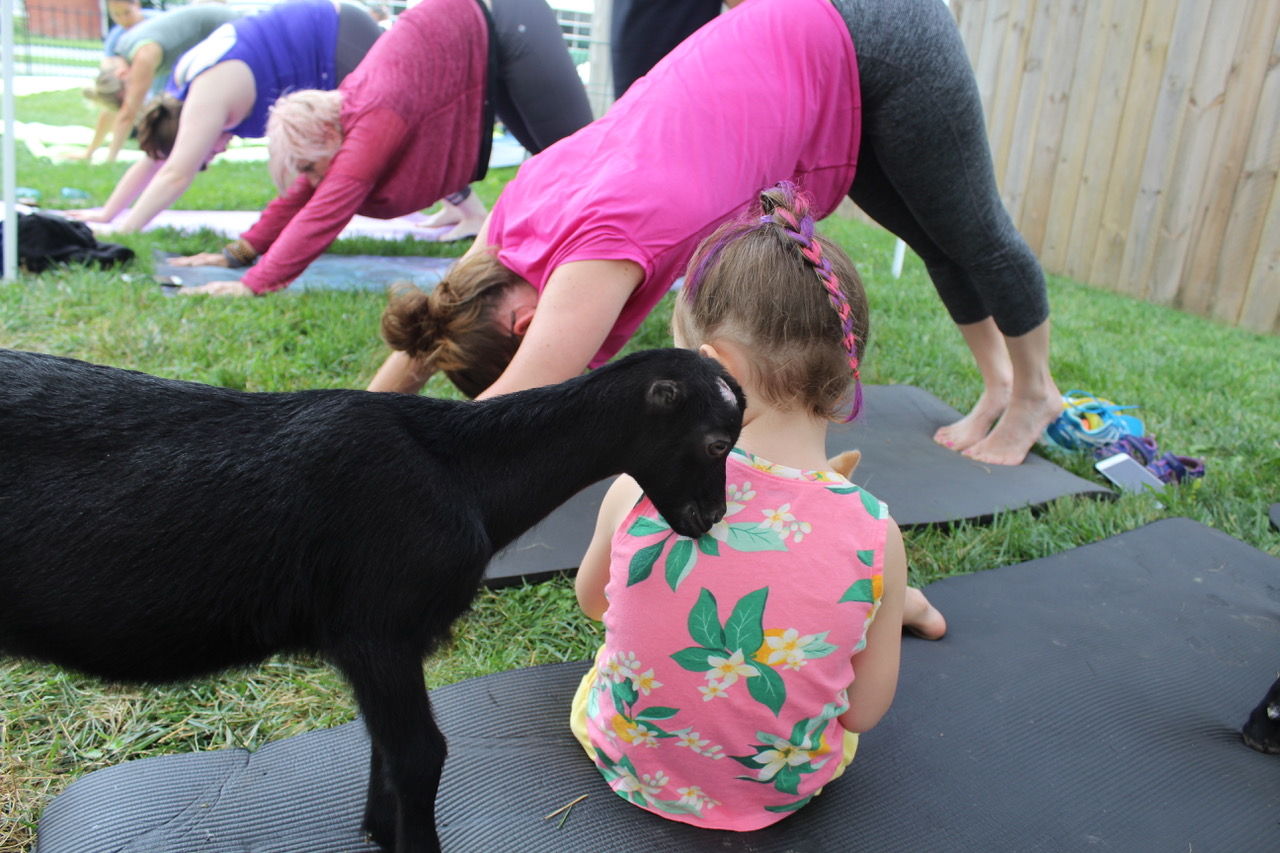 Tagalong Farms Boutique and Gifts owner Jone Koch agreed it's good therapy being around all the animal babies. She said goats are natural "clowns," jumping on top of people and doing other antics that make people laugh. Koch has a young neighbor boy help during yoga by picking up the goats or other animals and evenly placing them around.
Koch said there's probably only a handful of farm animal yoga classes in existence. She's had people come from as far away as Cincinnati to do goat yoga. With so many people living in a city or town, it may be the only chance some get to cuddle with goats and other farm animals.
I know I enjoyed the chance to do something that's good for my body and that's a new experience. And I also appreciated that I could pick up some natural, locally-made goat milk soaps and lotions.
The cost is $20 for goat yoga and $35 for farm animal yoga. Discounts are available for kids. Be sure to go online and reserve a spot in advance.
To enjoy a weekend getaway that involves yoga, click here for accommodations.