Nestled amidst the picturesque countryside of Trafalgar lies Apple Works, a captivating orchard that comes alive with the arrival of harvest season. As the leaves turn golden and the air grows crisp, this beloved destination becomes a wonderland of fall fun.
At Apple Works, you can wander through rows of apple trees, play on a hay bale mountain, navigate the corn maze, choose your own pumpkin from the patch and, ultimately, make unforgettable fall memories.
Beyond the fall attractions and delicious apples, you can also shop for locally-made treasures in the vintage barn. From charming crafts to unique decor, the artisan market offers one-of-a-kind items that will add a touch of fall to your home.
For little ones, a visit to Apple Works is an adventure. The petting zoo awaits, where gentle animals welcome their new visitors. Children can frolic in the pumpkin patch, ride a pony or a train and explore the fall-themed playground.
When hunger strikes, food trucks will be there ready to serve both classic eats and seasonal favorites like Apple Works' own apple cider slushies. Inside the barn, you'll find more treats like homemade ice cream, apple pie, and fresh produce.
Apple Works is not merely an orchard; it's a fall experience that captures the essence of the season. So gather your loved ones and create cherished memories at this autumn wonderland.

Ready to plan your trip? Here are the details for this season's fun.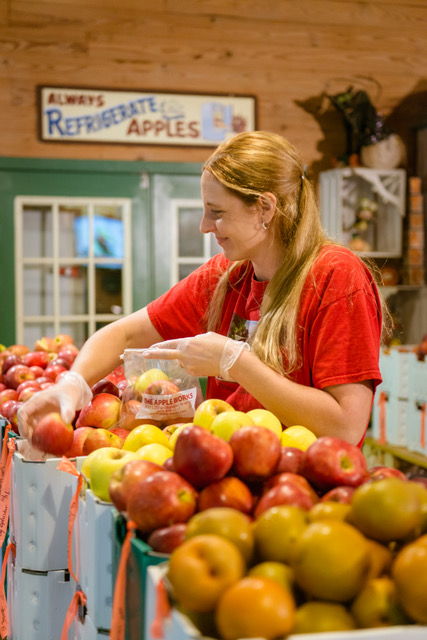 Attractions:

Pony rides

Pumpkin patch

Apple alley with pre-bagged apples for purchase

Fall-themed playground with combine slide

Corn maze

Train and wagon rides

Artisan market

Treats like snow cones, apple cider slushies, apple cider donuts, apple dumplings and more

Food trucks

Fresh produce

Live music on weekends

Grain bin basketball

Ducky race

Corn crib pit

Petting zoo

Live music lineup:
Musical acts will play from 11:30 a.m. to 2 p.m. and 2:30 to 5 p.m. They are listed in this order or noted below.
Sept. 10-11 - David Sisson, Bomar & Ritter
Sept. 17-18 - David Sisson, Aaron Grubb
Sept. 24, 11:30 a.m. to 2 p.m. - Tom Brown
Sept. 25 - Aaron Grubb all day
Oct. 1-2 - Bringin' on the Bluegrass, Bomar & Ritter
Oct. 8 - David Sisson, Dan Kirk
Oct. 9 - David Sisson, Aaron Grubb
Oct. 15 - David Sisson, Exit 99
Oct. 16 - David Sisson, Jeff Tucker
Oct. 22 - Ruben Guthrie, Bomar & Ritter
Oct. 23, 2:30 to 5 p.m. - Bomar & Ritter
Oct. 29-30, 11:30 a.m. to 2 p.m. - David Sisson
Schedule:
Fall hours (Sept. and Oct.)
Tuesday through Friday from 10 a.m. to 4 p.m.
Saturday from 10 a.m. to 6 p.m.
Sunday from 11 a.m. to 4 p.m.
Some fall activities are only available on weekends.
Summer hours (June, July, Aug.)
Tuesday through Saturday from 10 a.m. to 4 p.m.
Pricing:
Admission to the farm is free. Certain attractions like train rides and pony rides are pay-per-ride. The playground is $5 per child for the day. Other products like pumpkins and apples are available for purchase. Visit Apple Works on Facebook for more details as they become available.