Do you love to travel but hate having to find a restaurant where you can sit outside with your dog, a hotel that accepts pets, or things to do with your pet? Well, you don't have to worry because here in Festival Country Indiana, you can bring your pet with you!
In Festival Country you don't have to worry about where you will eat if you have your dog with you. Plenty of restaurants are pet friendly and some of them even cater to your canine's needs. You don't have to be worried that they will get jealous of the delicious homemade meal that you get to eat, because at Revery, your dog will have their own menu to choose a meal from!
You can find our complete list of restaurants that allow you to bring your pet along for outdoor dining by clicking here.
Don't worry about finding a place to stay because many of the hotels here are more than happy to house you and your companion for the night. Pet friendly hotels in Festival Country include Baymont Inn, Motel 6, Candlewood Suites, Red Roof Inn, Woodspring Suites and Wishing Well Motel. Click here and scroll past the pet-friendly restaurants to find great lodging choices for pet owners.
If you'd prefer to share a tent rather than a bed with your four legged friend then you are welcome to set up camp at Johnson County Fairgrounds or Johnson County Park Campgrounds as well. Make the most of your visit by sleeping next to a campfire and under the stars with your canine companion.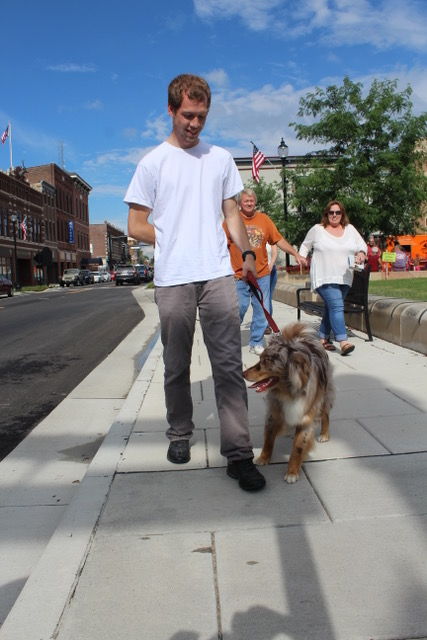 In Festival Country, there are also monthly outdoor markets that focus on selling pet products. The Furry Friends Market has dates in July, August and September. Plus, a portion of the proceeds go to those businesses benefit local pet rescue as well as other nonprofits.
If at some point during your stay with us you need to take a relaxing break and allow your dog to let out some energy, Festival Country Indiana offers a few off-the-leash dog parks, where you can enjoy the views of the parks while your furry friend runs safely within their fenced in area. Province Dog Park in Franklin and Four Paws Dog Park in Greenwood are great options, but remember to check the websites for costs and requirements.

An important part of every vacation is being able to relax by the pool, but towards the end of summer it can be a little too chilly to do this, but that doesn't mean your dog can't! If you are visiting towards the end of summer you'll be just in time for all the puppy pool parties taking place. Before the aquatic centers of Festival Country close for the year they allow the dogs to come and enjoy the last swim. Freedom Springs offers the popular Puppy POOLooza, while Franklin Family Aquatic Center's Doggie Pool Day and Pet Fair has both dog swimming and pet product vendors for you to shop at while your pup enjoys their refreshing swim with their new friends.

There is tons to do in Festival Country, so come visit, and don't forget to bring man's best friend!