If you see a light on in the basement of Middle Davids Artisan Candles in Franklin early in the morning or late at night, it probably means candlemaker Jeff Beaman is busy handmaking artisan candles in some of the 250 different scents he can make.

He might be making customer favorites like the cinnamon-spice-scented Autumn Harvest, his personal favorites like Honeysuckle Jasmine and Caribbean Teakwood, or store owner Tauria Catlin's favorite – the custom-blended Ceilidh, which contains oak moss, amber, lavender and sage.
Beaman, a Franklin crop farmer who starting making candles three years ago, explains that the artisan candles he makes are different than the mass-produced ones at other stores because they are made of the cleaner-burning soy wax, rather than paraffin. They also offer a few scents customers won't find anywhere else. And, the candles are expertly blended to have a consistent smell at the beginning and end of the candle. Many mass-produced candles have the scent concentrated at the top to lure customers, but lose their scent at the bottom.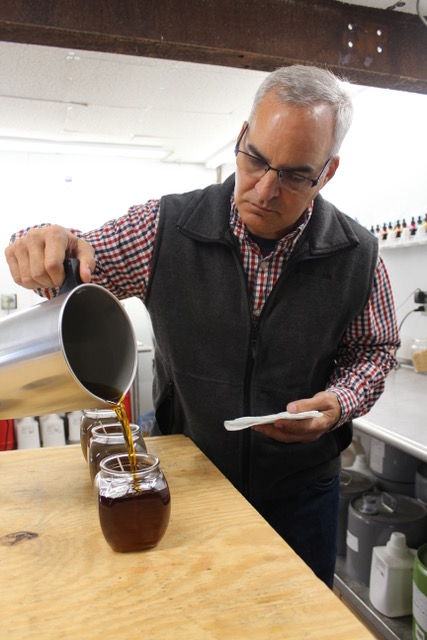 Beaman explains that candle making involves melting wax in 50- to 100-pound batches, then following recipes to add just the right amount of color and scent. Then there's hand setting the wick, filling the containers with wax and putting a wick holder in place to keep the wick straight.
He's proud that his creations are enjoyed by store customers, people who buy them through school or group fundraisers, and people who buy candles online or subscribe to candle-of-the-month programs. Middle Davids candles have been shipped overseas and to faraway states like Alaska and California.
Beaman, who picked up candle making after he got out of the hog farming business, now smells a tad better when he turns out the light at the end of the day.
"I come home and the kids say, 'Did you make apple today?'"
Visit Middle Davids for not only their candles, but also jewelry, art, pottery, cards, woven scarves and more made by 50 different artisans, many of whom are from Indiana.