EVENT DETAILS
Franklin Amphitheater, 237 W. Monroe St.
Franklin, Indiana 46131
EVENT DESCRIPTION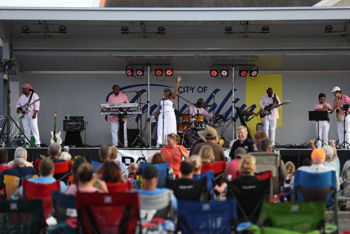 The schedule for the day includes the following:
Rock Around the Block: Moyra's Mile of Dance at 8 a.m. at the skate park

Entertainment on the stage from 10 a.m. to 3 p.m.
Vendor booths and kids activities from 10 a.m. to 5 p.m.
Heritage days at the Johnson County Museum of History from 11 a.m. to 5 p.m.
Food trucks serve from 11 a.m. to 10 p.m.
Beer and wine garden is open noon to 10 p.m.
The parade goes south on Walnut Street, east on Jefferson Street, and south on Home Avenue starting at 1 p.m.
The dachshund derby is at 3 p.m. at Youngs Creek Park
Photo booth from 5 to 9 p.m.
Live music by Mellencougar on the stage at 7 p.m.
Fireworks are at 9:30 p.m.