Farmers Markets are now open throughout the area, including the Franklin Farmers Market. The Franklin Farmers Market is a Saturday staple in downtown Franklin, providing the community with an assortment of fresh local produce and handcrafted items. Here is a brief roundup of items I found when I visited.
1. I first went to Boys & Berry Farm to view owner Jody Taylor's fine selection of jams and jellies. Each jam and jelly looked delicious. It made for a tough choice. I chose two jams: strawberry rhubarb and raspberry jalapeno!
2. I continued my Farmers Market trip by going to Mascher Micro Greenworks. Microgreens are the shoots of vegetables such as beets, radishes, and arugula. They are picked immediately after the first leaves have grown, making them a fresh and nutritious addition to any dish. Microgreens are becoming more popular, and Mascher Micro Greenworks has provided Franklin's foodies with this delectable treat. I chose two varieties of microgreens: spicy daikon radish and purple radish.
3. Every dish needs a tasty dressing or vinaigrette to enhance flavor. Luckily, Brick House All Natural-Vinaigrettes specializes in healthy, all-natural dressings that will complement any meal. They offer a variety of flavors, including classic sweet dijon, sesame ginger, creamy garlic herb, avocado lime, raspberry champagne, and sunny honey balsamic. Each dressing has all-natural ingredients, no GMOs, and low sodium. For those with food sensitivities, there are dairy free options, and vegan dressings are offered as well. I purchased the avocado lime vinaigrette!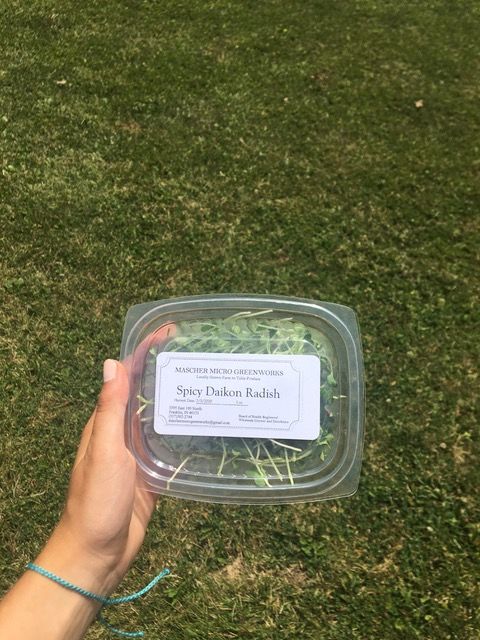 4. Local honey is a popular farmers market item, and several Franklin Farmers Market vendors had their local honey on display. I chose this 12-ounce raw honey from Mike and BJ Dodson. You can't go wrong with local honey in hot tea!
5. I concluded my Farmers Market trip by purchasing some items from Dollie's Farm. The new lavender and you-pick flower farm had a wide array of lavender beauty products. I chose an all-natural lavender bug spray to combat the mosquitoes on hot summer nights. I also purchased a dozen free range eggs. Dollie's Farm has a wonderful selection of products at the Farmers Market, and they have more handcrafted items and beauty products at their farm as well!
Make sure to stop by the Franklin Farmers Market from 8 a.m. to noon each Saturday. The Farmers Market will be operating through Oct. 10. It is located two blocks west of the Courthouse on Jefferson Street.