Fall is here, and nothing says fall just south of Indy in Festival Country like hayrides and cornfield mazes.

One of the best spots for these experiences and more is Kelsay Farms in Whiteland. They are now open for the "Experience the Farm" season which goes through October 27.
You can visit on Fridays from 6 to 10 p.m., Saturdays from noon to 10 p.m., and Sundays from noon to 6 p.m. During the weeks of October 7 and 14, they will also be open daily from noon to 6 p.m. for the fall break crowd.
Admission to the farm is $10 per person ages 2 and older, and that price includes all of the following:
● Interacting with Farm Animals (goats, cows, sheep, pigs, donkeys, chickens, ducklings)
● 7-acre Corn Maze (includes Jack and the Cornstalk story as you go)
● Augmented Reality Scavenger Hunt (if you download free app)
● Moo Choo Express
● Hay Ride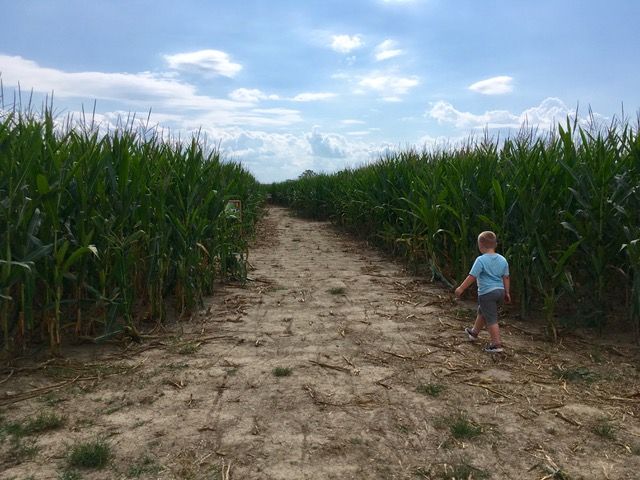 ● Bale Mountain

● Corn Crib Play Area (huge boxes full of corn kernels)
● Preschool Pasture Play Area (5 years and under)
● Baby Barnyard (3 years and under)
● Human Moosball-Foosball
● Hoppy Cows
● Funky Pumpkin Drawing
● Jump Pad
● Pumpkin Patch (pumpkins sold separately
● Farm Games
● Face Painting (on weekends)
● Dairyoke (family-friendly karaoke on Friday nights)
● Flashlights in the Maze (bring your own flashlight for more fun at night)
● Photo Backgrounds and Cutouts (bring your own camera/phone)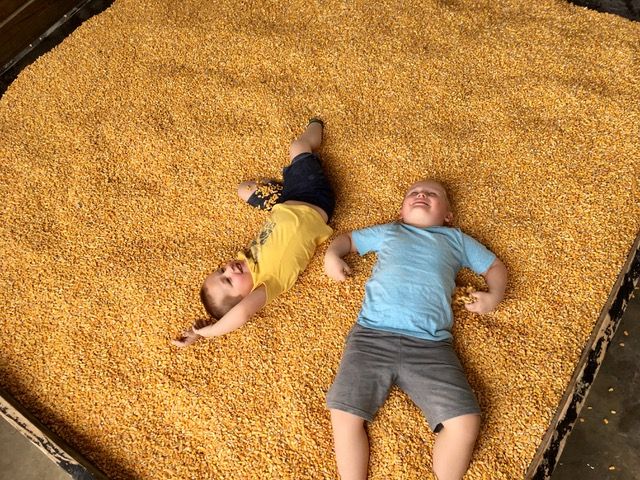 For an additional cost, you can purchase pumpkins, gifts, food, and drinks. Food and drink options include:
● Cheeseburger
● Pulled Pork BBQ Sandwich
● Grilled cheese
● Hotdog
● Nachos
● Pretzel Bites
● Apples with Caramel
● Chips
● String Cheese
● S'more Kit
● Moo Meal for Kids 12 and under (milk, applesauce, string cheese, hot dog or grilled cheese, and a surprise)
● Milkshakes
● Soda
● Hot Chocolate
Kelsay Farms will also have special events this fall, including trick-or-treating in the corn maze and pumpkin painting classes. Check their website for more details.
Recently, the Circle City Adventure Kids spent a day at Kelsay Farms, and they loved every minute of it. These 3-year-old and 4-year-old brothers could spend all day pushing tractors through the gigantic corn crib.
They suggest you try making "corn angels" in the crib on your visit. The Moo Choo Express is another favorite of theirs, especially since the boys can ride without their parents and take off on a tractor-fueled adventure. They also highly recommend that you try a chocolate milkshake while you're there.
Even if you don't have little kids in your group, there is something for everyone at Kelsay Farms. Don't miss out on experiencing this sixth-generation crop farm right here in Festival Country. Also, check out a video of our experience.