Take your best shot of (or selfie with) these and other attractions, which are just south of Indy, then tag @journeyjoco and use #journeyjoco so we can share our favorites.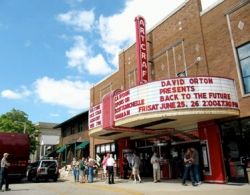 1. Historic Artcraft Theatre Marquee
Snap your picture with this classic marquee in the background, especially at night.
57 N. Main St.
Franklin, IN
317-736-6823
www.historicartcrafttheatre.org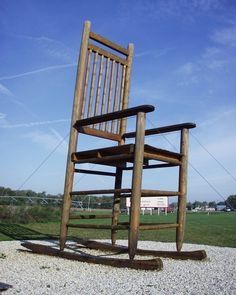 2. World's Largest Rocking Chair
Check out the giant rocking chair outside this store and the equally big chest of drawers that is part of the building's design.
4108 U.S. 31 South
Franklin, IN
317-738-3302
www.longsfurnitureworld.com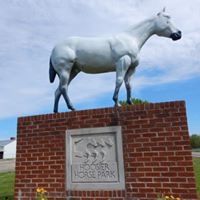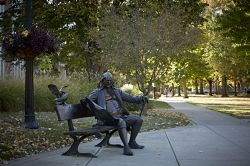 4. Hanging with Ben
Sit on the bench next to the seated Benjamin Franklin statue outside the Napolitan Student Center on Franklin College's campus, or snap a shot of the two-ton Ben statue at the college's main entrance.
101 Branigan Blvd.
Franklin, IN
800-852-0232
www.franklincollege.edu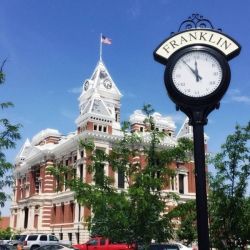 5. "Time" for a Photo
No visit to Johnson County would be complete without a photo with the historic clocks in Greenwood and Franklin.
East Monroe Street and East Court Street
Franklin, IN
300 S. Madison Ave.
Greenwood, IN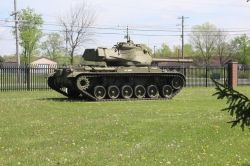 6. Military Tanks and More
Visit Camp Atterbury Museum and, across the street, visit the outdoor museum to see a monument and get your photo with military tanks, helicopters and other military hardware. The Prisoner of War Chapel is another interesting site to view and is about three miles away.
Old Hospital Road (800 South), between Mauxferry Road and Schoolhouse Road (South 325 East)
Franklin, IN
812-526-1386,
www.atterburymuscatatuck.in.ng.mil/NewsMedia/PublicAffairsInformation/Museums.aspx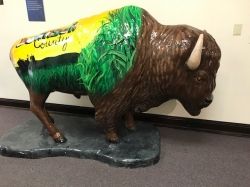 7. The Life-size Bison
Go to the Johnson County Museum and get your picture taken with the life-size bison that was part of Indiana's bicentennial and "bison-tennial" in 2016. While you're there, check out the exhibits.
135 N. Main St., Franklin, IN, 317-346-4500, www.johnsoncountymuseum.org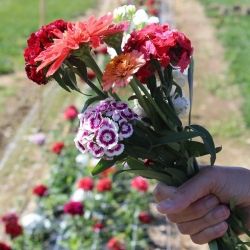 8. Flower Power
A lot of people who pick a bouquet of flowers at P&D Flower Farm, a U-pick farm, pose for a photo with their creation.
7749 E. 1000 North
Indianapolis, IN
www.pdflowerfarm.com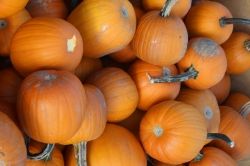 9. Fun Fall Photos
No autumn would be complete without a selfie holding an Apple Works apple or a giant pumpkin. Or, get a photo with a pumpkin at Kelsay Farms – and add a photo in the corn maze or on top of the straw mountain.
Apple Works
8157 S. 250 West
Trafalgar, IN
317-878-9317
www.apple-works.com
Kelsay Farms
648 N. 250 East
Whiteland, IN
317-535-4136
www.kelsayfarms.com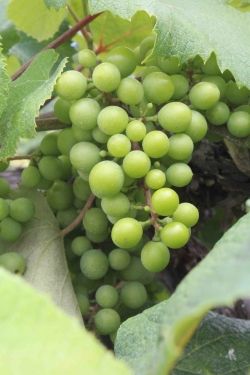 10. Mallow Run Winery
People come for wine tastings, but often pose for a picture with vines of grapes in the background.
6964 W. Whiteland Road
Bargersville, IN
317-422-1556
www.mallowrun.com