If you venture to downtown Franklin around 8:30 p.m. on a Friday night, make sure to stop by the City Hall building at 70 E. Monroe St. Here you'll find a quaint mini festival complete with a food truck (on a recent Friday it was ice cream from Scoops & Treasures) and live music. At dusk, a positive and thoughtful message is illuminated on the City Hall building by Creative Council member and Night Lights creator Patrick Tisdale. The project is appropriately named Night Lights. It has grown from a social media campaign to a weekly celebration of hope in the midst of challenging times.
The Night Lights project began during the COVID-19 quarantine. The Creative Council of Franklin sought to, as Tisdale says, "Show up for Franklin in a safe and encouraging way." The simple yet reflective quotes and lyrics are displayed on Franklin's City Hall building. Pictures of the weekly messages are often shared online via Creative Council's Instagram and Facebook accounts. The quotes are intended to be optimistic and timely. Most of the messages are created with hand-cut stencils. Tisdale says that the quotes share a common theme of light, which symbolizes hope for the future. The Creative Council chooses quotes from online submissions on their website.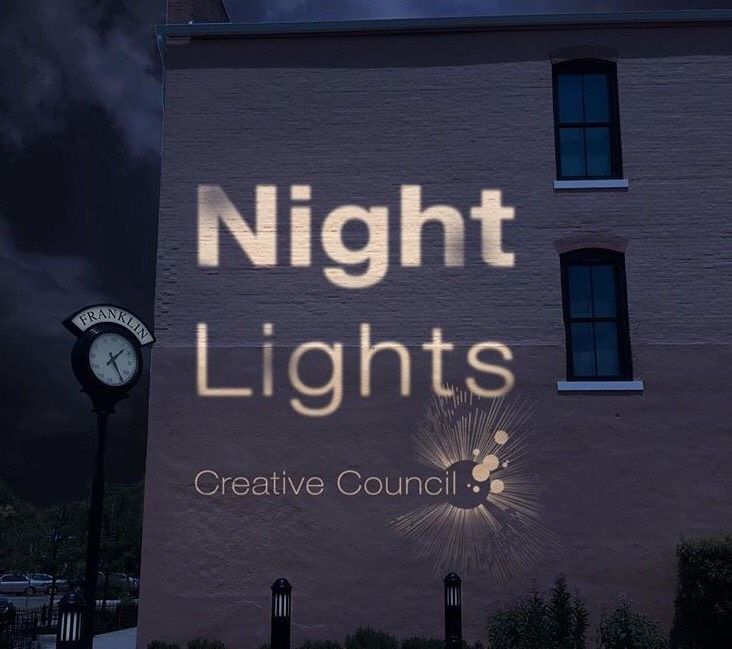 Night Lights has become a meaningful event for Franklin. It is a celebration of community and hope for a bright future. Tisdale says that Night Lights serves as a safe space for people to re-engage in beloved downtown Franklin. The Creative Council of Franklin's mission is to unite artists and serve the community through creative projects. Night Lights is a prime example of the Creative Council's diligence and commitment to provide some literal and metaphorical light for our community. If you're looking for inspiration and small-town charm, look no further than Night Lights in downtown Franklin on Friday evenings.
To stay updated with the Creative Council and the Night Lights project, follow their Instagram account @creativefranklin and like their Facebook page @CreativeCouncilFranklin.