Everyone needs a break from their fast-paced life from time to time, and sometimes a nice break in a local coffee shop is just the piece of relaxation we're searching for. Festival Country Indiana is home to these great coffee shops:
Coffeehouse Five is one of the most laid back places to sit and chat in Greenwood. From coffee, to espresso, to smoothies, there are plenty of fair trade and direct trade drinks to sip as you work in this industrial style coffee shop. If you're feeling a little hungry, Coffeehouse Five also offers gourmet grilled cheese and a selection of breakfast sandwiches and pastries. All net revenue Coffeehouse Five earns goes directly to their five initiatives supporting the community, including marriage counseling, addiction recovery, and non-profits who work to support local families. Coming soon is a Coffeehouse Five location in Franklin.
Benjamin's Coffeehouse is an important part of life for those who live in Franklin and the surrounding area, as well as a frequent landing spot for visitors. Benjamin's Coffeehouse has a full menu of breakfast items, lunch options, coffee, soda, fresh baked pastries, and more! It is a perfect place to chat with friends, and many Franklin College students enjoy doing their homework in the comfy atmosphere.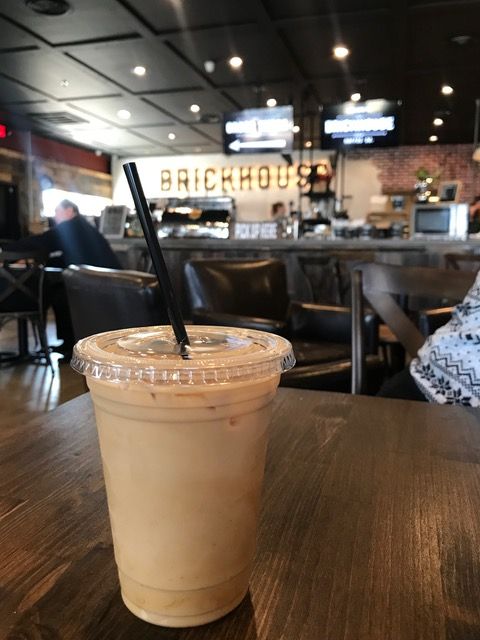 Strange Brew is exactly what it claims to be – quirky and strange! Strange Brew is the coffee shop in Greenwood that gives a different experience than the other local coffee shops in the area. The walls are filled with funky art and it's the perfect place to gain some inspiration as you work. They are proudly the oldest coffee shop in Greenwood and their coffee is locally roasted.
Brickhouse Coffee Co. is a roastery craft house in Greenwood. It's beautiful on both the inside and the outside, and there is an abundance of drink options every day. Brickhouse offers coffee subscriptions where you can have their delicious coffee beans shipped directly to your house every month so you never run out of their delicious blends!
Great coffee shops are just one more reason why Festival Country Indiana is the place to visit just south of Indy.