Two long-time residents of Festival Country Indiana (and tenderloin aficionados) scoured the area for the best Hoosier tenderloins. Here's what they found.
By Don Cummings and Sarah Trueblood
In order to pick the best pork tenderloin around, we coupled our own ideas about which restaurants to visit with suggestions received on social media. We quietly visited without the establishments knowing they were being scored.
Because the "Hoosier" tenderloin isn't widely available outside Indiana and is distinguished by the breading, no grilled tenderloins were evaluated - only those breaded and then fried.
To be even more clear about the attributes and finer points of the Hoosier tenderloin, we offer these thoughts: In addition to being characterized by the style of meat and its toppings, the classic Hoosier tenderloin sandwich is widely known (and revered) for even generously-sized buns being dwarfed by the perimeter overhang of the meat. That's one of its attractions! What to do about this is a matter of personal preference, style and even debate. Some will break off edge pieces as bite-sized appetizers. Others will cut the meat in half and stack it as a double-decker. For some, folding will do. Some will take half the meat home for another sandwich later. While still others will simply ask to be served an extra bun. Dealing with the excess delicacy is half the fun.
Unless otherwise noted, each sandwich was sampled with the standard regimen of toppings (lettuce, tomato, mayo, onion and dill pickle) and with French fries. A well-presented tenderloin comes with all the standard fixings, but on the side or on an open-faced sandwich so one can remove what one doesn't want.
In order to be objective and fairly compare sandwiches weeks apart from one another, a scoring scheme was used that evaluated the esteemed sandwich on both presentation and taste at the establishments of several pork purveyors. Appearance scoring elements consisted of meat size (diameter and thickness), breading appearance, bun size appropriateness, bun durability, and overall presentation. Taste elements included meat/breading overall taste, meat tenderness, bun quality, dressings/toppings, and overall sandwich taste. The aggregate taste scoring was weighted higher than the presentation elements. Finally, the two judges' individual scores were averaged. You can count on every tenderloin listed herein to have a satisfying taste, a satisfying crunch, and representing the best in how this classic is presented. No pork fritters here!
In full disclosure, we did not visit food trucks nor establishments where tenderloin availability was highly intermittent, nor any place that permits smoking.
For those establishments that did not make the list, we either were unaware of your offering or simply ranked others higher after our visit.
Without further ado, we give you our take on the Best Tenderloin in Festival Country. And then we list 10 others, in alphabetical order, to create the "Top 10 Hoosier Tenderloins." In addition, we wanted to highlight the "Biggest Tenderloin" and the "Best Presented Tenderloin." So watch for some special designations in this list.
Best Tenderloin: The Willard

Beginning with a nice thick cut and a pickle spear on the side, the breading was exquisite, like fried chicken. And a bit of black pepper flavor that gave it just the right amount of zing. Locals had told us repeatedly that The Willard had the best in the county. And an objective assessment by these judges turned up the same result. Our scoring rubric also placed their sandwich squarely at the top when rated on taste alone, or by appearance alone. So, it's the best tasting tenderloin and best presented tenderloin. You simply can't go wrong starting your tenderloin trek here.
99 N. Main St., Franklin
317-738-9668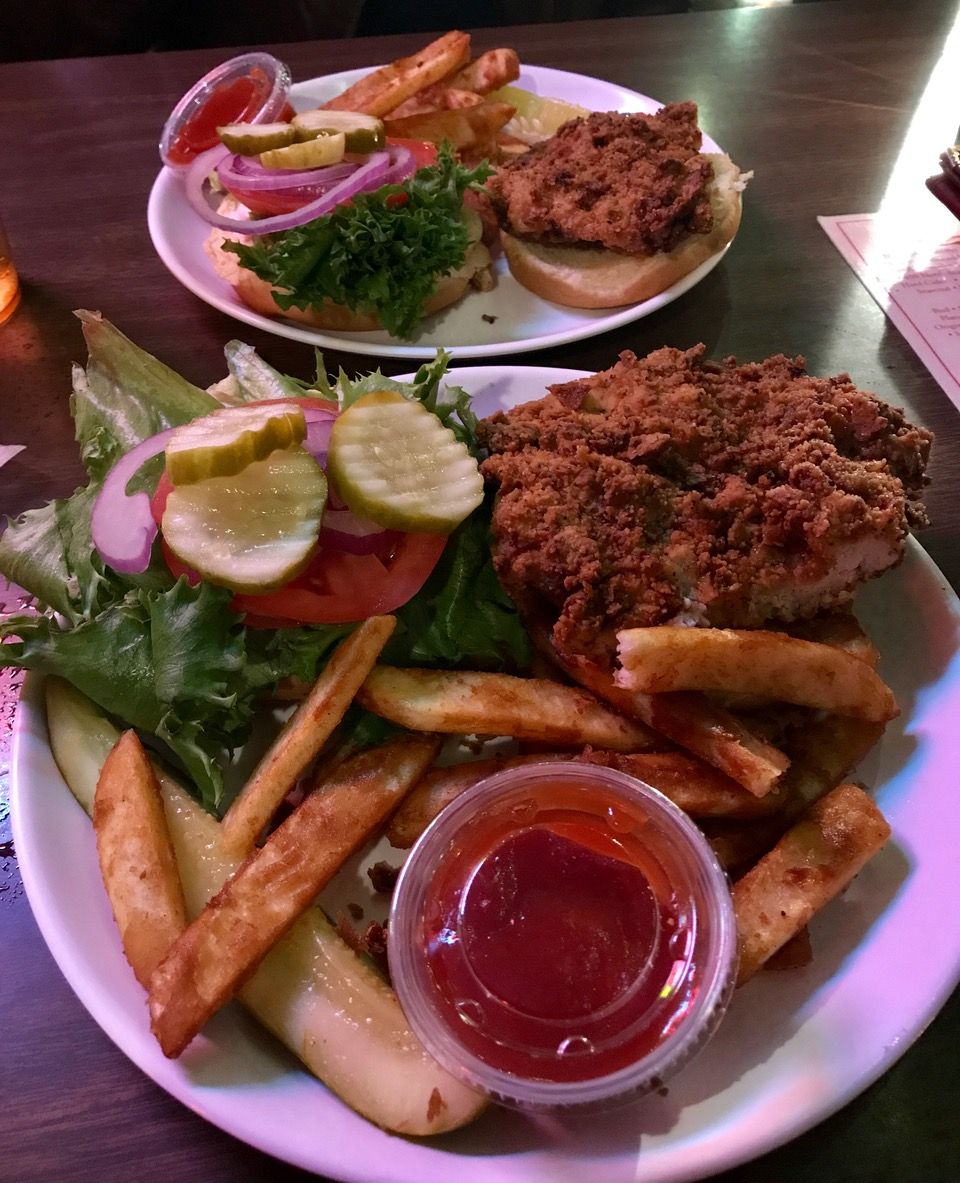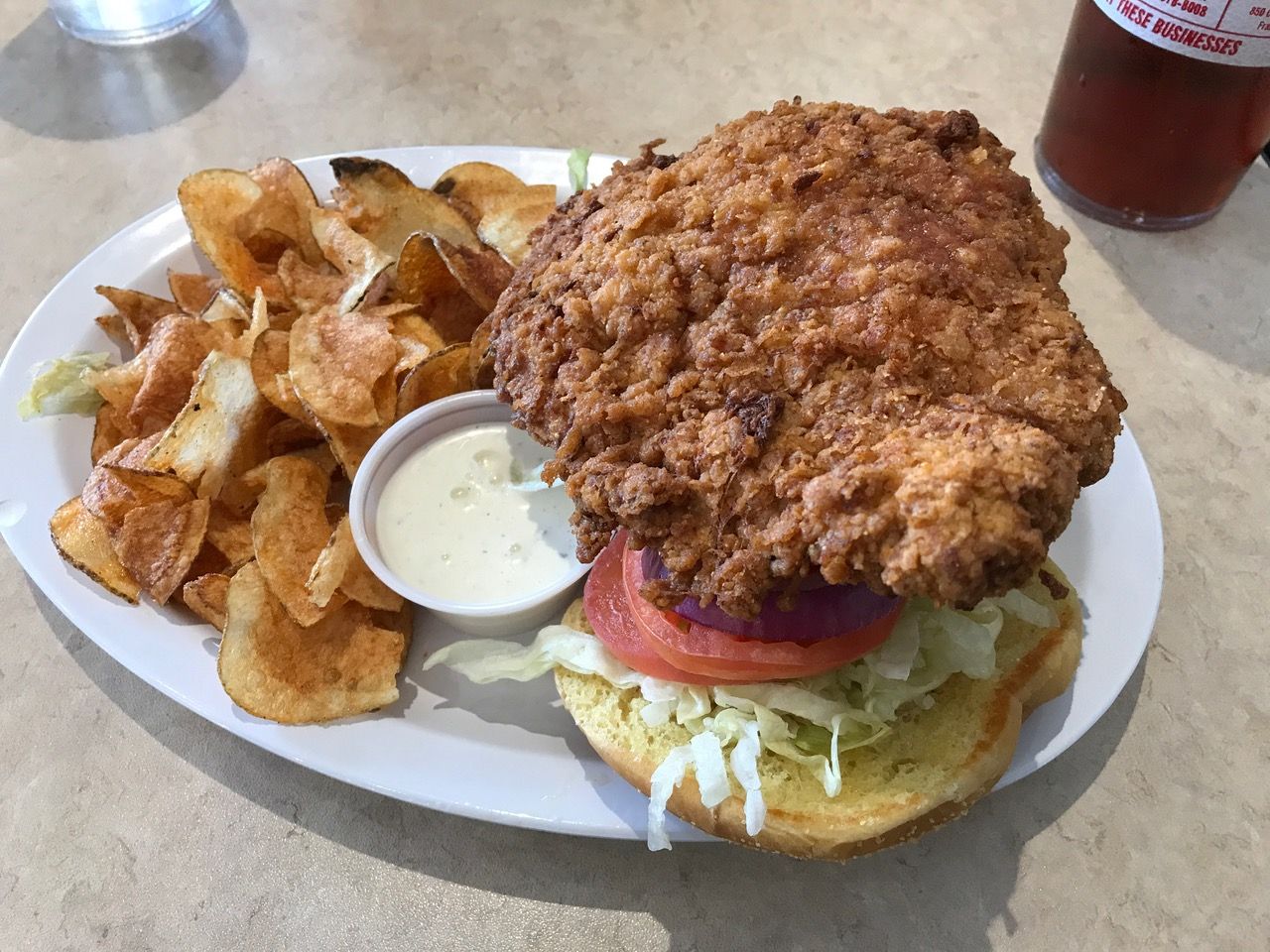 Ann's Restaurant

Intended for daytime dining only (no dinner hours), the Hoosier tenderloin is a perfect addition to the menu of this classic comfort food cafe adjacent to Franklin's courthouse square. (In fact, it's not uncommon for sequestered juries to be escorted to Ann's for lunch in their private upstairs room.). Ann's twist on this classic, beyond the toasted bun, is to substitute their "homemade" potato chips with ranch dressing for the more standardly-offered French fries. We also appreciated the classic lettuce leaf being replaced by shredded lettuce.
77 W. Monroe St., Franklin
317-736-5421
Edinburgh Diner (Biggest Tenderloin designation)
Let's just say this first: This unassuming diner wins hands-down for biggest tenderloin. You could bring extra buns and feed a family of four from this gargantuan pork platter. They were very generous all around. When we requested an extra bun for sharing, they offered up a complete extra set of toppings as well. The meat was thin and crispy, and a treat to break off and sample before planning an attack on the sandwich. There was a really nice amount of flavor and spice to it, and it was accompanied with some dang good fries.
413 S. Eisenhower Dr., Edinburgh
812-703-5086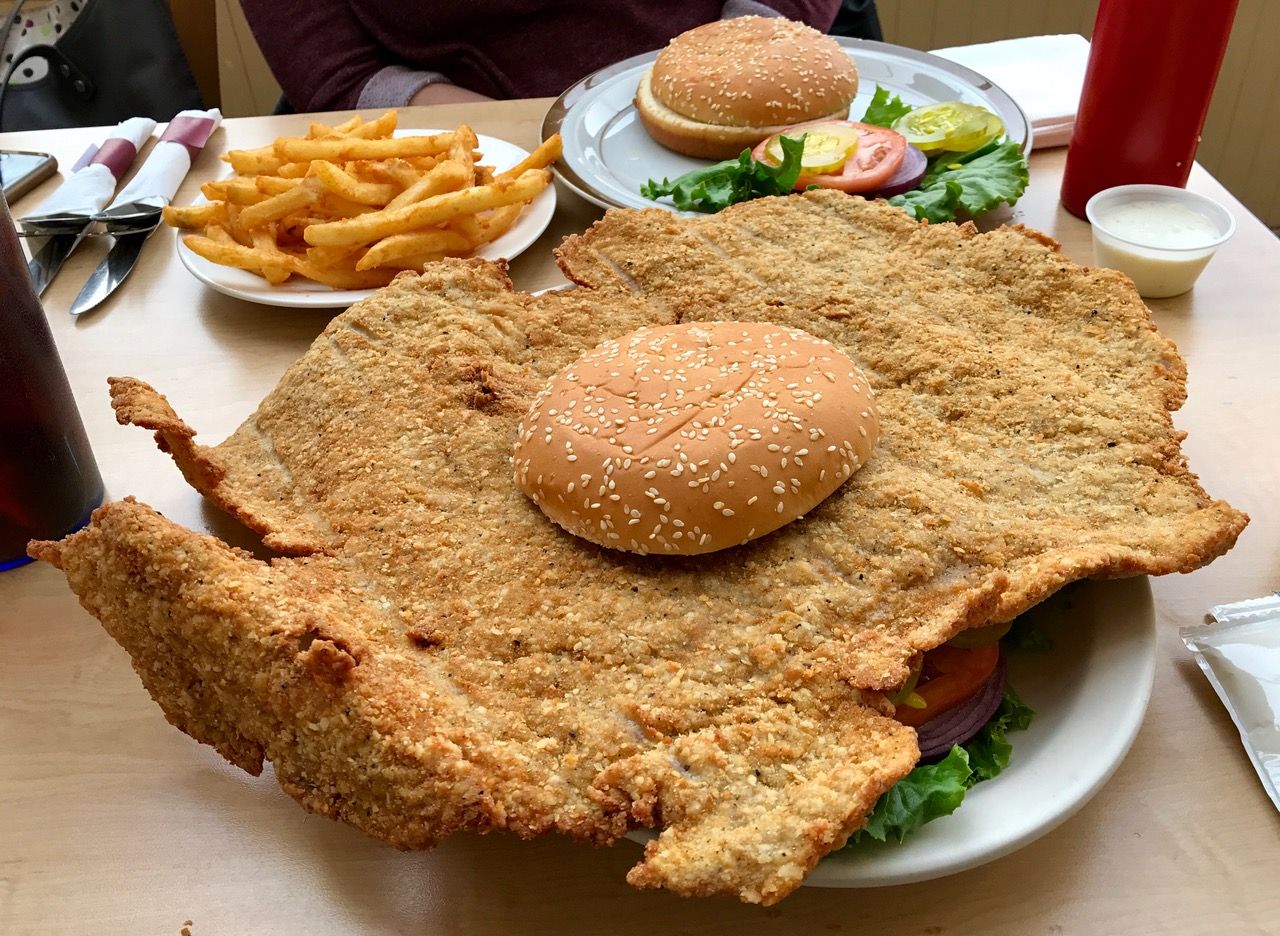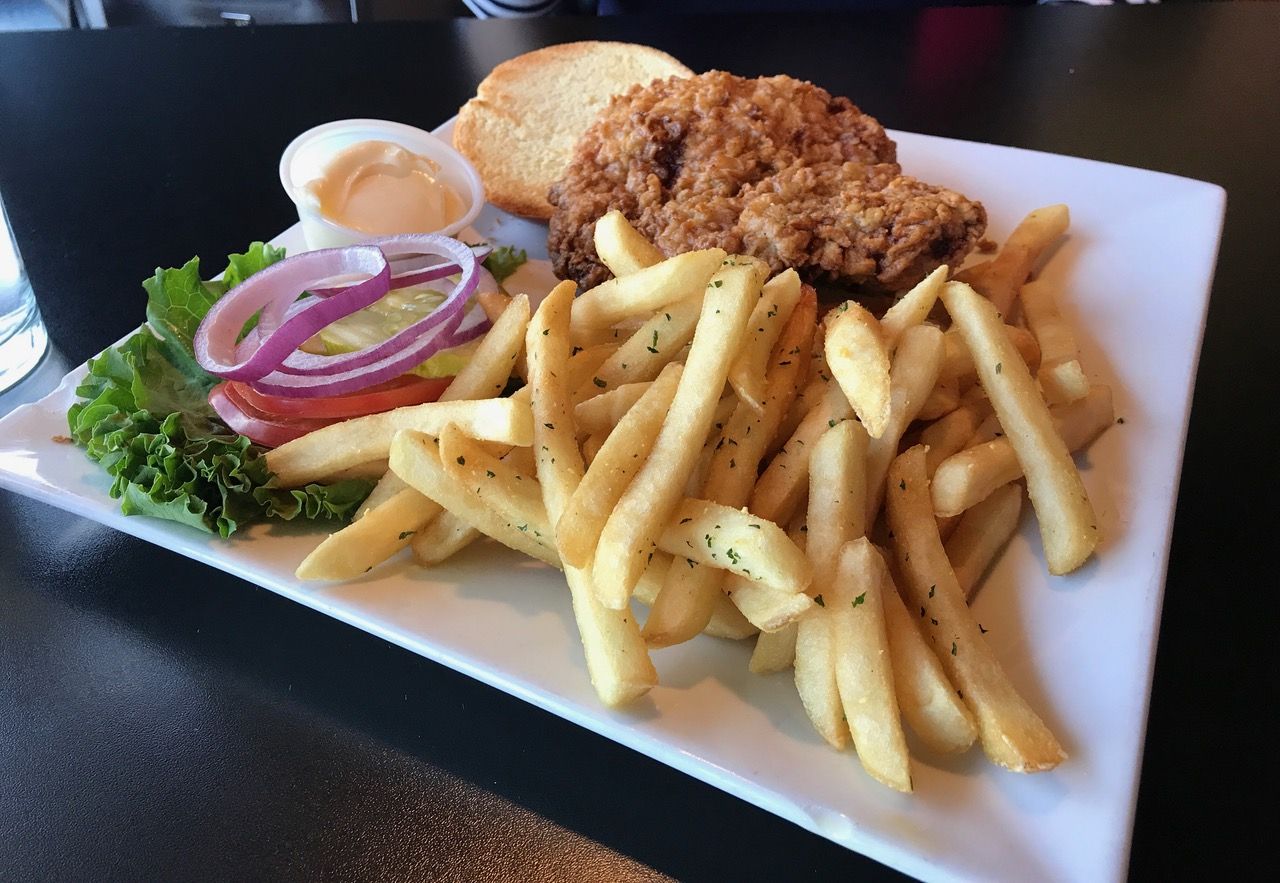 Main Street Grille
One of the most popular menu items on their top shelf menu, their tenderloin impresses all who discover it. We've heard of visitors from "dry counties" (no Hoosier tenderloins) who always make a point to stop in for one when in the area. Built along the classic model, their version offers a pickle spear with the sandwich. Their tiny hint of garlic on the fries rounds out the meal.
200 S. Emerson Ave., Greenwood
317-215-4326
Oaken Barrel Brewing Company
A great tasting version of the Hoosier classic, we were impressed by the meat/breading taste combo. Their variation included a kosher dill pickle and a corn-meal-dusted bun. High quality fries rounded out the meal.
50 Airport Pkwy., Greenwood
317-887-2287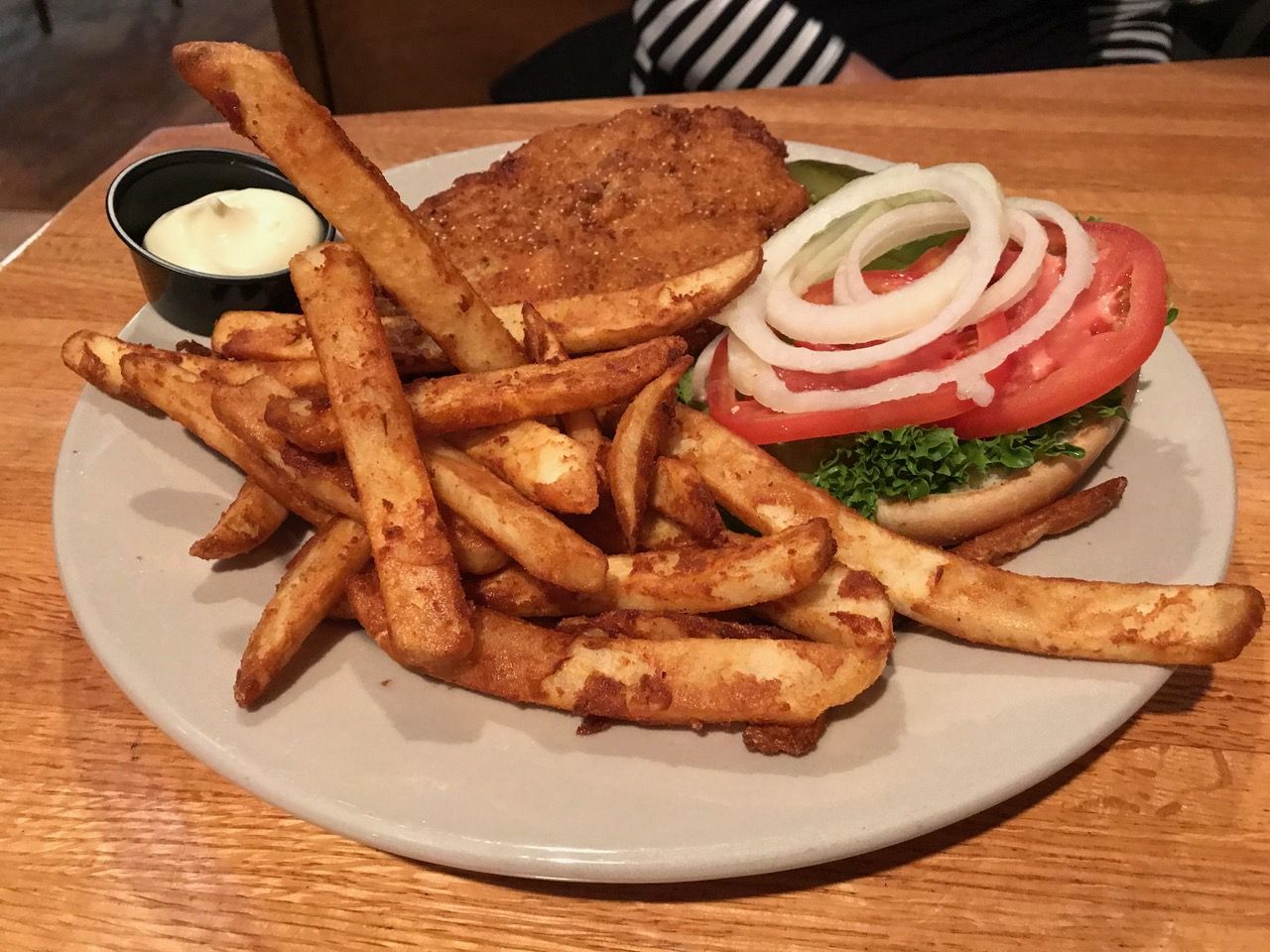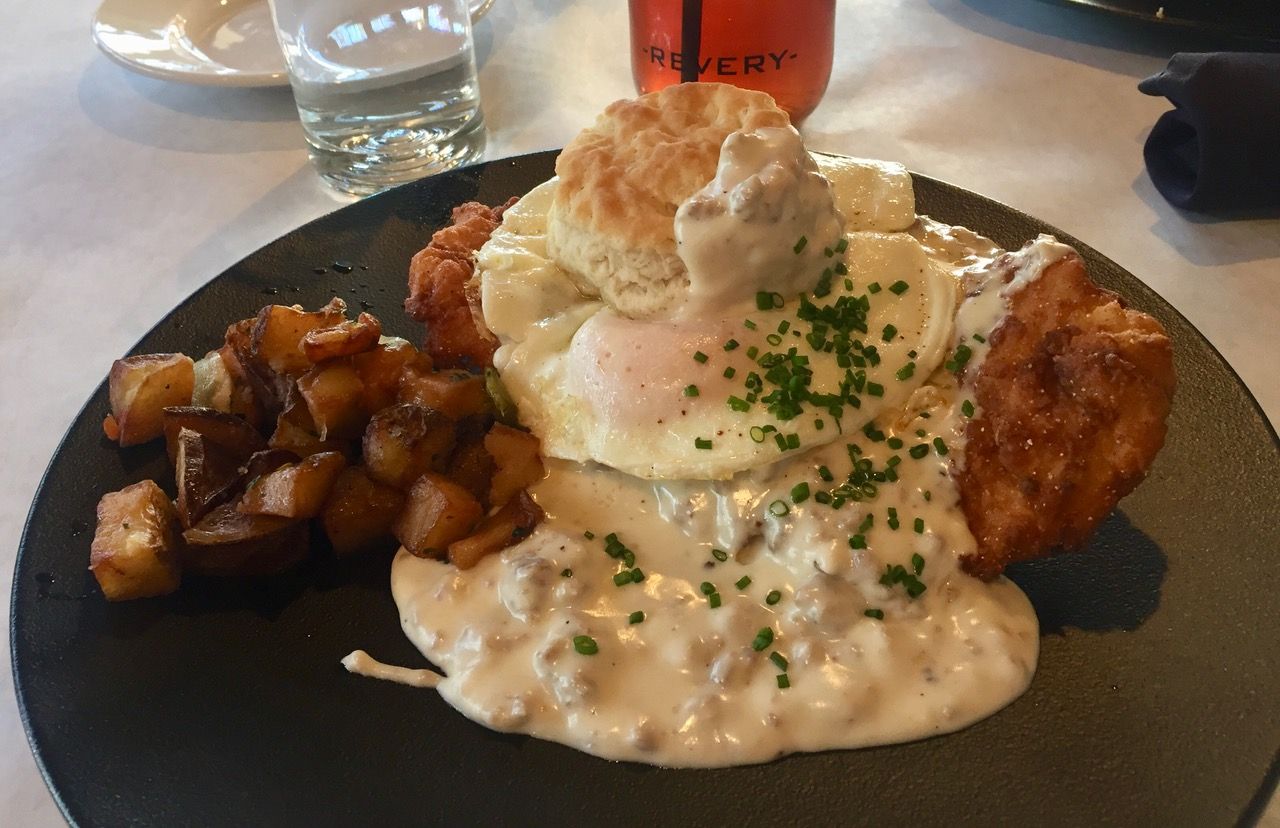 Revery (Top Specialty Tenderloin designation)
Revery is a high-end gastropub of sorts, so you won't find the tenderloin on its dinner menu. But it is still available there at certain times, incliuding the Sunday brunch version and the lunch version.
Believing that no knowledge is wasted, we report on both versions here.
Sunday brunch version: Much to our surprise, this chef-driven restaurant has integrated the classic Hoosier tenderloin into a breakfast skillet dish of a sort. With breakfast potatoes beside it, this pork prize is topped with fried eggs, gravy, and a fresh biscuit. Picture a country-fried steak breakfast with a tenderloin substituting for the steak. Not the sandwich you might be expecting, but worth the trip! This dish takes our Top Specialty Tenderloin award.
Lunch version: The Revery tenderloin is well-presented. Garlic mayo is a nice touch. This menu item provides potato chips, but you can upgrade to fries if you are compelled. Just be sure to specify all your preferences when you order. Revery's version includes all the standard fixings, but also adds cheese, ketchup, and mustard. Not being on the side or open faced, you won't be able to easily adjust to your preference after the sandwich is delivered, so just be clear up front. A beautiful hunk of breaded meat for sure. We appreciated that the bun was up-sized, and the meat was downsized, making a well-matched sandwich.
299 W. Main St., Greenwood
317-215-4164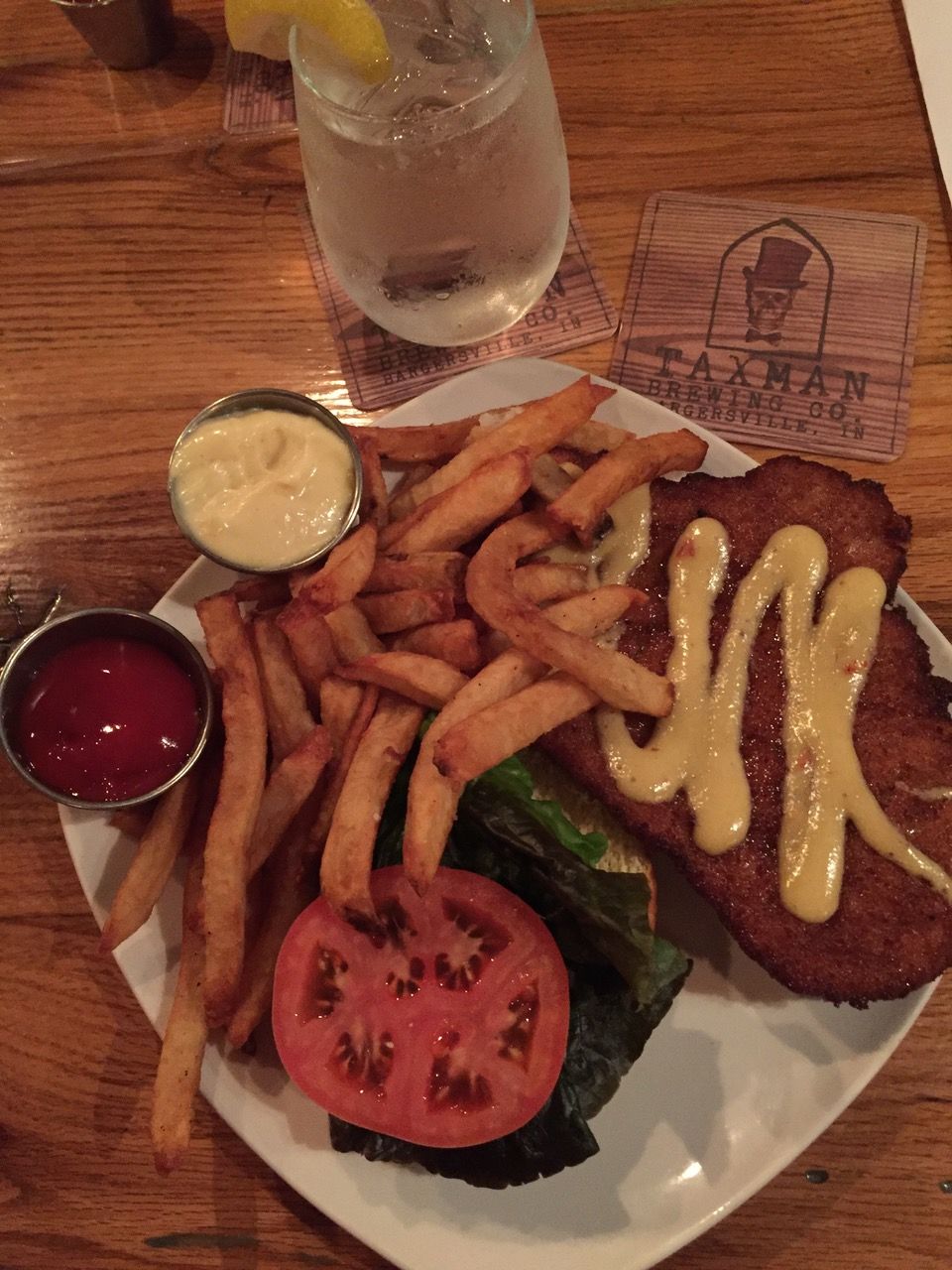 Taxman Brewing Company
Known for its fresh, local, eclectic food as much as for its beer, Taxman put its own spin on this sandwich, starting with the shape of the cutlet. Much more rectangular a cut of meat than most, one of ours had an angled cut and so was reminiscent of the shape of Indiana. Fitting. But the first thing we observed was the artistic drizzle of Dijon mayonnaise. That and the toasted bun gave it its own character in taste and in appearance. If you want to catch this version of the Hoosier classic, you may do so any time but Sunday brunch.
13 S. Baldwin St., Bargersville
317-458-0210
Tried & True Alehouse
Let's start with a bun. It is well designed for a Hoosier tenderloin, something that is not an easy feat. This place has a great ambiance for grabbing hold of this industrial-worker-popular sandwich. A beautifully presented tenderloin sandwich with custom sliced pickles, and the best beer list of all the places we visited (yes, even the breweries).
2800 S. State Road 135, Greenwood
317-530-2706