What started as a homemade candle business is now an artisan candle and gift shop with items from nearly 60 vendors. Tauria Catlin is not only co-owner of Middle Davids Artisan Candles, but also a Navy veteran.
Q: Tell me about your background. What led you to this point?

A: [My husband] Dan and I were both Navy veterans and met in Annapolis, Maryland. I had a full Navy career and Dan is actually a disabled veteran. We moved to Indiana when Dan got a job here. I was a stay-at-home mom for about 15 years. We decided to start our own business around 2009 when the market fell and our youngest went to kindergarten. My husband and his father had started Middle Davids Candles out of their house about five years prior as a way to make extra income. When our kids went to college, my husband got another job and I focused on running Middle Davids. We've been here in Franklin since 2009.
Q: Where did the name "Middle Davids" come from?
A: My husband and his father both have the middle name David, and the name Tauria didn't fit very well.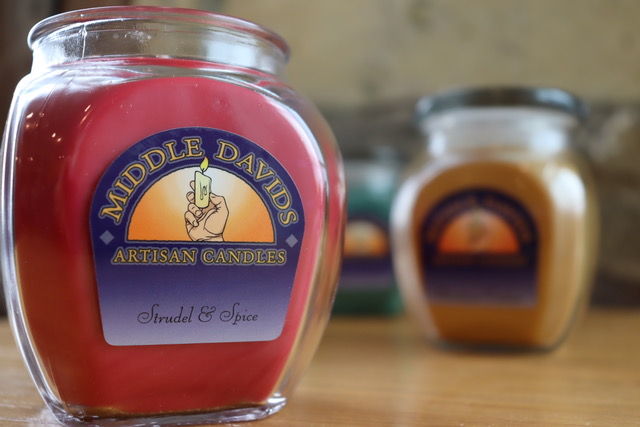 Q: Why a candle and gift shop?
A: My father-in-law has been making candles since my husband was two. He would mix scents and experiment. He was a pastor and didn't have a lot of money, so this was his way to make gifts and things for his family. When we opened up a storefront, my husband said it would just be a showroom for the candles, but I had the idea to add other things. We had a friend who was a potter, so I started selling those items. When we opened, we had only a few tables and it looked like a garage sale. We went from one artist to now about 55 or 60. At least 40 percent of it is from Indiana and all but one is from the U.S.
Q: I have to know, what is your favorite candle scent?
A: My favorite scent in our regular line is Caribbean Teakwood.
Q: Lastly, what is it like being a female business owner in this community?
A: In Franklin, there's a lot of us, so it doesn't feel like it did in the classroom at the Naval Academy. The city structure is so helpful and is such a great support for small businesses. The visitor center and others stop by and check on me and make sure to get the word out. I have a great team here and it's kind of a little family. I'm always grateful because so much is open to women now and the people before paved the way.
-------
Visit Middle Davids Artisan Candles at 100 S. Jackson St. in downtown Franklin.