Since 1823, downtown Franklin has been the hub of the county. Because of the city's history, each building holds a unique story. With these self-guided walking tours, you'll be able to learn rich history, uncover architectural gems, relish local art and discover the stories behind historic signs. Follow the maps and directions below to learn more.
Historic Walking Tour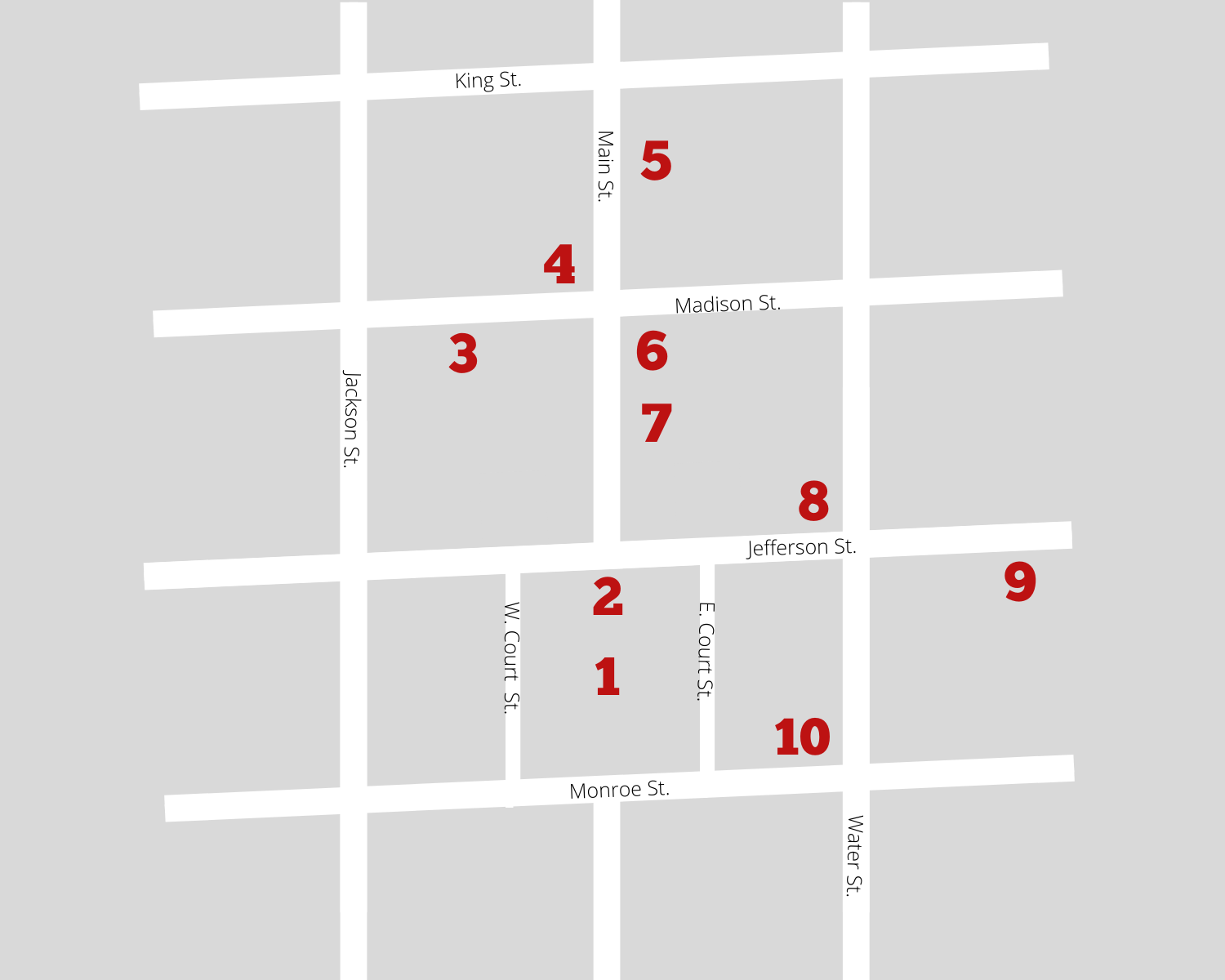 1. Johnson County Courthouse
The first elected official was John Smiley and the first courthouse was his house. There have been four versions of this building. The first was established in 1823 and the current building was created in 1882.
2. Vawter Monument
Funded by Commodore John T. Vawter. He attempted to raise money for it, but when there was no community support, he donated $5,000 and had it made on his own. It honors those who fought in the Civil War.
3. Franklin Post Office/RFD Franklin
Constructed in 1936 and used as a post office until 1980, when it became Franklin City Hall. Flood damage in 2008 forced City Hall to move. Now, RFD Franklin uses the building as a restaurant. Inside, there are slots in the wall where the postmaster could spy on employees to make sure they were working, and the windows at the top were used to vent hot air in the summers.
4. Province Hospital/Main & Madison
Now an eatery called Main & Madison, this was home to the first and only hospital in Johnson County until after World War II. Building was constructed in 1906 and was run by Dr. William Province and his family for several generations.
5. Johnson County Museum of History
It was first located in the basement of the courthouse when it opened in 1931. Then, Clara Suckow donated her house on Madison St. as a new museum site. It stayed there until the 1980s, when it moved to its current location, which was once a masonic temple. The Johnson County Historical Society and the county government bought the building in 1988. It houses artifacts ranging from fossils to the 1950s.
6. The Willard
Was first built as a house in 1860, then turned into a hotel in 1922. Later purchased and turned into an eatery and pub, which is now known for its award-winning tenderloin. Maintains its history through the marble fireplace, signage inside and curved staircase.
7. The Historic Artcraft Theatre
Built in 1922 for silent movies, live shows, orchestras and political rallies, it contains an orchestra pit, full stage and dressing rooms under the stage. During World War II, reels from the battlefield were shown. The building was purchased in 2004 by Franklin Heritage Inc. and restored. Now, it's a favorite spot for movies on the weekends.
8. Henderson Pharmacy/Jefferson St. Pub
It was one of the largest pharmacies in the county. Established in 1897 by C.B. McCullough, it was later purchased by James Henderson, who it was named after. One of the original doors can be found in the Johnson County Museum of History.
9. Nick's Candy Kitchen
This parking lot was once a favorite hangout spot called the Franklin Candy Kitchen, although everyone called it Nick's. The shop was open until 1975. Imagine a soda fountain, jukebox and homemade candies.
10. Deer's Hardware/Visitor Center
This store spanned three floors and stretched all the way to E. Court St. It sold all kinds of home improvement tools, as well as tractors and farm equipment.
Architectural Walking Tour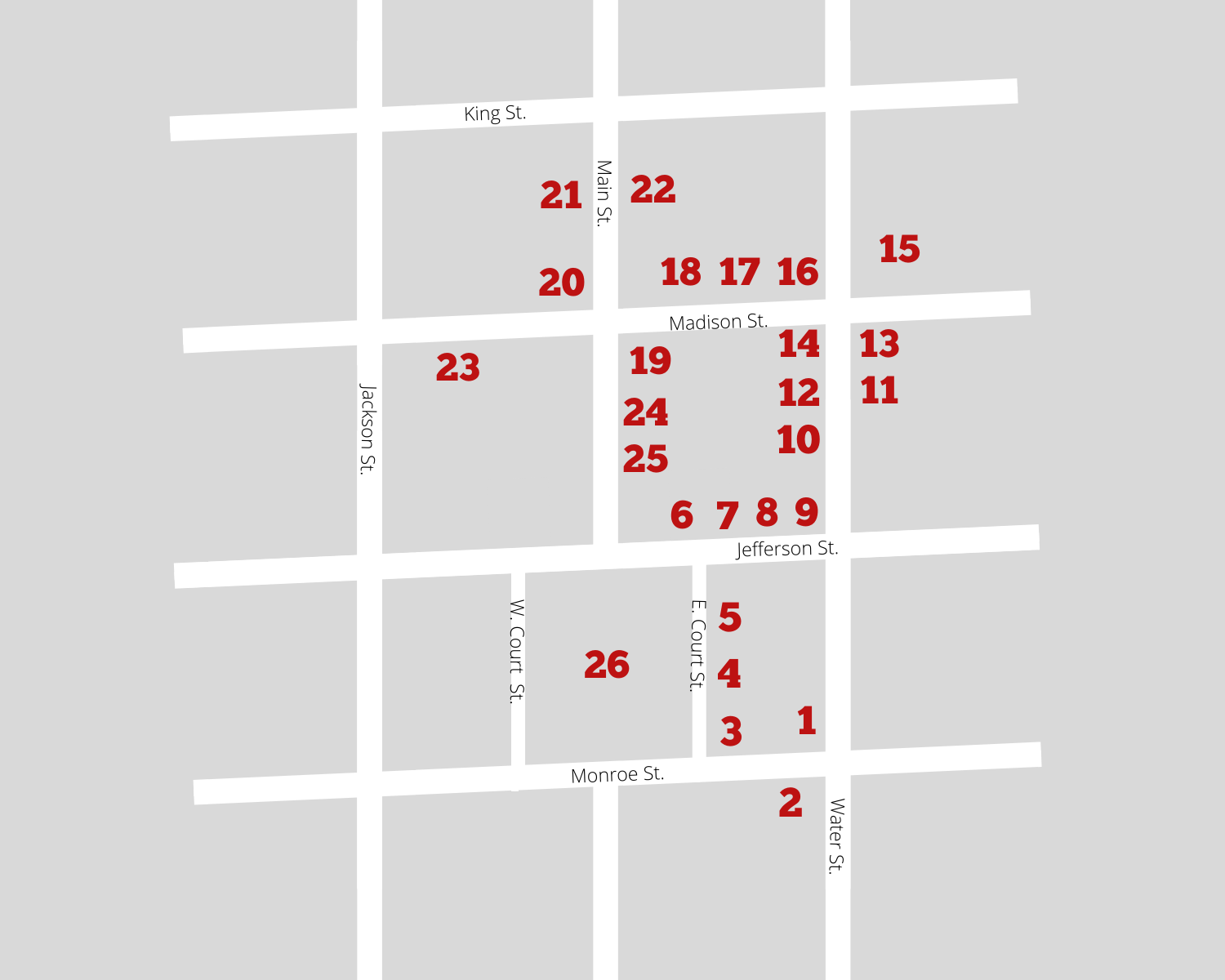 1. Visitor Center
The bricks were made in a wood-fired oven so they are softer than today's bricks.
2. B2S Life Sciences
This was one of the livery stables and is an example of adaptive reuse. The building was repurposed rather than torn down.
3. City Hall
Rosettes - small rose-shaped decorations - can be found along the top of the building.
4. Old Towne Beer Hall & Growler Co.
Trueman Rembusch, previous owner of the Artcraft Theatre, used this building as his office and made it art deco style to match the Artcraft.
5. Deppe, Fredbeck & Yount
This is Italianate style because of the molding and round arches.
6. Hometown Realty
Notice the fleur-de-lis on the top railing of this building.
7. Brick Street Boutique
This 1880s style building creates a pointed look by double-stacking bricks at the top.
8. Mutual Bank
The protective bars on the second floor windows were added for safety after WWII.
9. Jefferson Street Pub
There are vents between the detailed brackets to help cool the building.
10. The Mint
The reinforced brick corners are called quoins. This was a bank, so the corners give it a bold, important appearance.
11. 51 N. Water St.
This is Greek Revival style from 1865. See how the roof tucks back under itself on the side? That's called a Greek return.
12. 60 N. Water St.
This is a classic American Foursquare.
13. 99 N. Water St.
This 1865 Greek Revival was home to five generations of doctors in the Province family.
14. 99 E. Madison Ave.
The windows above the doors are used to vent heat and they're called transoms.
15. First Presbyterian Church
Notice the pointed arches and rosette windows. The reinforced diagonal corners are like those on Notre Dame and they're called flying buttresses.
16. 100 N. Water St.
This is from 1872 and was purchased for $3,400. It is a Tuscan style home.
17. 60 E. Madison St.
This Queen Ann style home has asymmetry and a Palladian window, which is where one arched window is in between two flat ones.
18. 48 E. Madison St.
Used to be a seven-room hotel for those who traveled on the Interurban.
19. The Willard
Once a hotel, this restaurant is built by the McCaslin family by 1860.
20. Main & Madison
This was the first hospital in the county before WWII. It's a Tudor Revival style.
21. Auger Law Office
This building is a mixture of Tudor Revival and Italianate.
22. Johnson County Museum of History
This monumental building was once home to the Masons. Head to the second floor for an impressive auditorium.
3. RFD Franklin
This was the third city post office. Another example of monumental design but in the Georgian style. Notice the rare 12 over 12 windows (12 panes above 12 panes).
24. Artcraft Theatre
See the Art Deco style in the rounded marquee, sign and the round features inside.
25. Generation Art & Frame/DJ's/Salon 33
This block was the second post office and features eight over eight windows.
26. Johnson County Courthouse
Built in the Victorian Eclectic style in 1879, this was said to be like a cake where more and more details were layered on. It was a competition with neighboring counties to have the best courthouse.
Art Walking Tour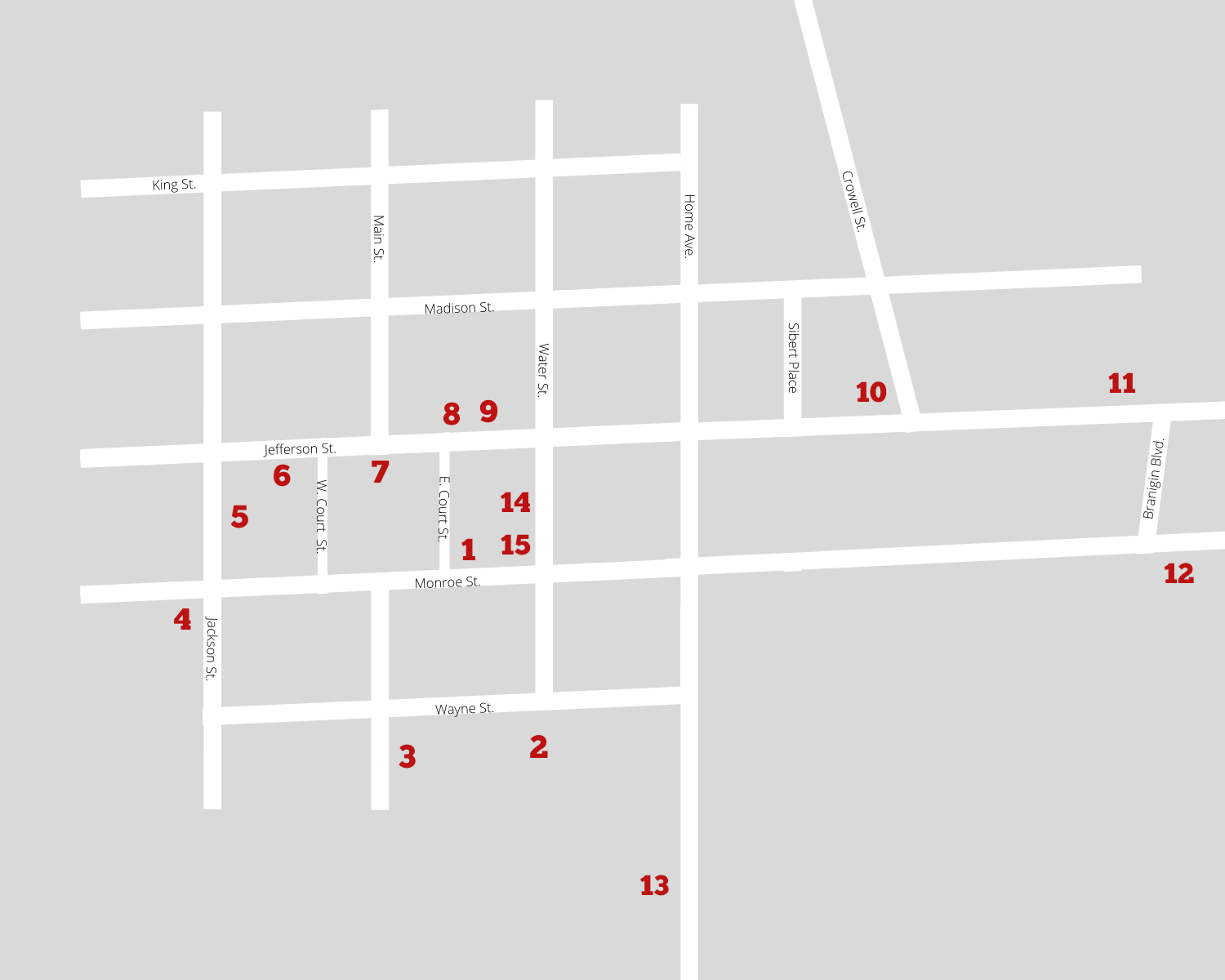 1. Night Lights
The Creative Council of Franklin displays inspirational words on city hall on select Friday nights and also has live music and food trucks.
2. Arts Garden
It features a labyrinth and sculptures.
3. Good Vibes Mural
This was designed by Shannon McKeon in 2019 as part of the Johnson County Community Foundation mural project.
4. Sloth Mural
This was created by artists Gordon Strain and Greg Potter.
5. Bubble Installation
This art installation was designed by Gordon Strain in 2016 as one of the first Johnson County Community Foundation mural projects.
6. Toodleydoo Toys
These interactive art exhibits are by artist Greg Potter.
7. Vawter Monument
Sculpted by Rudolf Schwartz, who's known for at least 30 sculptures, including the Soldiers & Sailors monument in Indianapolis.
8. The Elevator
This co-working and event space displays public art through temporary galleries.
9. The Elks Lodge
Inside there are permanent art collections that can be viewed by the public on select days.
10. Depot Park/Benjamin Franklin
The train car here shows how historic architecture beautifies the city. The Benjamin Franklin mural was designed by Danny Causey in 2017. The colors on each kite represent all the colleges and high schools in the county.
11. Alva Neal Building
This building serves as the gathering place for artists in the community, providing a place for local art to thrive.
12. Franklin College Art
The Benjamin Franklin sculpture was made out of marble in 1929 by John M. Mahoney and gifted to the college in 1962. The seated Benjamin Franklin was made out of bronze in 1990 by George Lundeen. There are additional art collections indoors.
13. Under the Sea Mural
If you head to Province Park, you'll find this sea-themed mural and a colorful quilt mural under the bridges.
14. Koi Fish Mural
During Ethos Celebration of the Arts in 2019, this mural was created. Many of the alleys in downtown Franklin are being beautified.
15. Visitor Center
Festival Country Indiana created a poster series to commemorate iconic locations throughout the county. Each unique poster is designed by a local artist.
Historic Sign Walking Tour
This tour is a collaboration with Franklin Heritage Inc. Refer to the second map for additional information.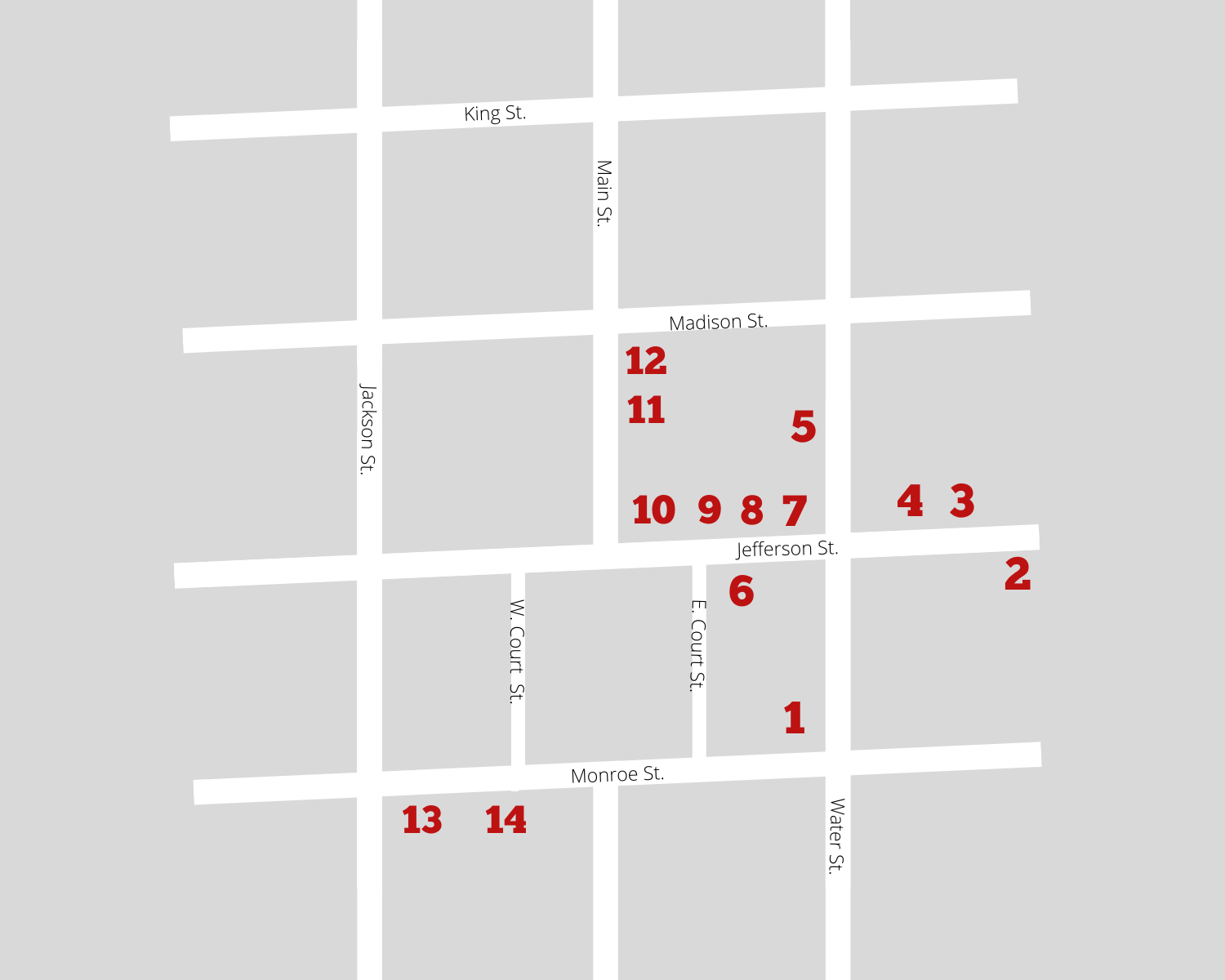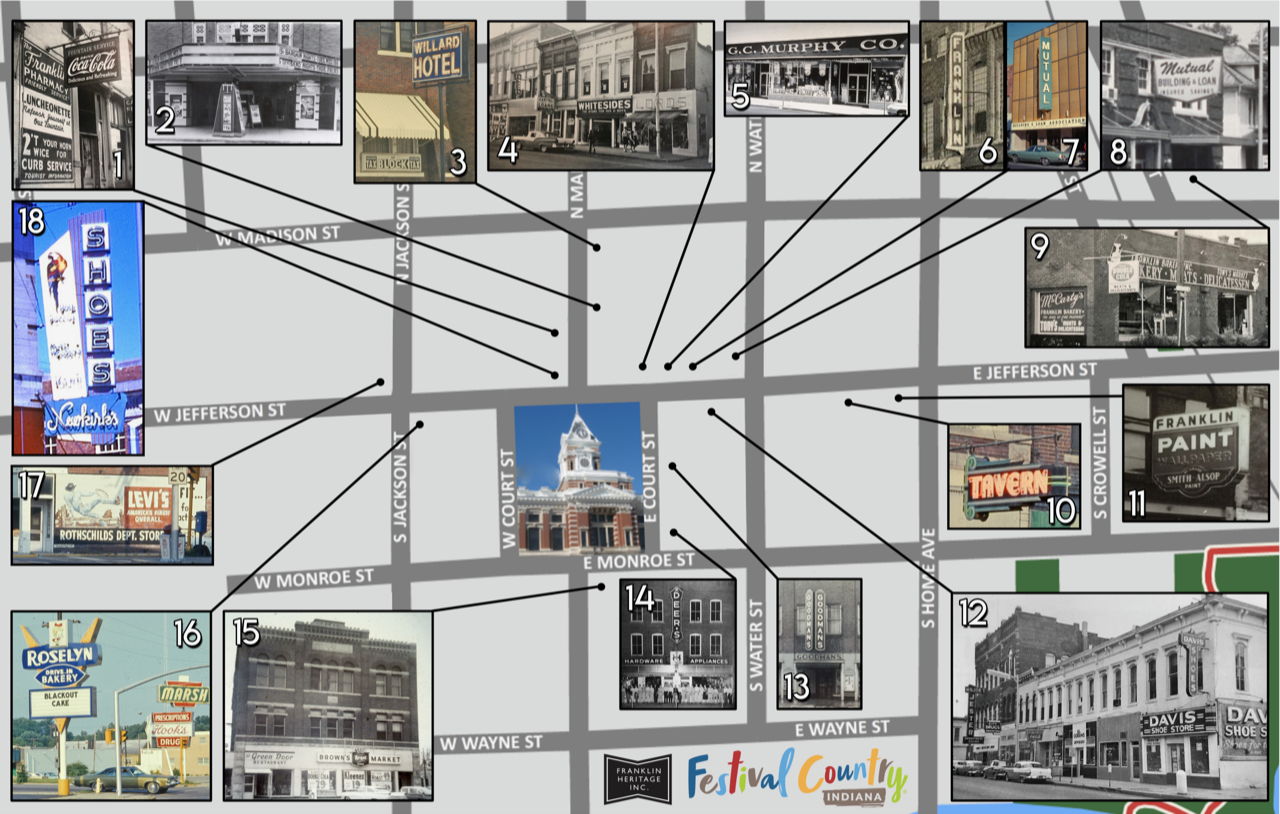 1. Visitor Center

At 20 feet tall, this is one of the newest and largest signs in town. It was modeled after the original Deer's Hardware sign that once hung here. This is number 14 on the Franklin Heritage map.
2. T-Shirt Express
The building was once home to Franklin Paint & Wallpaper, which sold a brand of paint called Smith-Alsop, which was displayed on their old sign. This is number 11 on the Franklin Heritage map.
3. The Grill Bar
This classic red and blue neon sign is the oldest in town and is believed to be original to the bar's opening in 1947.
4. Franklin Chamber of Commerce
After moving out of the railroad depot building, they moved here. Danny Causey designed their sign in 2014.
5. The Mint
This classic bourbon bar refurbished an old sign in 2019 to attract attention from those on Jefferson Street.
6. Frank's Guitars
While not a blade sign, local artists created this sign with a few special twists. The four knobs are actual guitar knobs Frank had in his repair stash. Look up and you'll see four 45 records (that Frank picked himself) covering the iron tie rods. This is number 12 on the Franklin Heritage map.
7. Mutual Bank
This building used to be home to the Franklin Theatre, which was owned by Trueman Rembusch (who also owned the Artcraft). It later became home to Mutual Savings Bank, who remodeled the sign as a nod to the old theater. This sign transformation was one of the largest in Franklin sign history. This is numbers six, seven and eight on the Franklin Heritage map.
8. Brick Street Boutique
This sign used to read "saloon" in large letters for The Courthouse Saloon. Now, it belongs to Brick Street, and they've created it so people can read it from all three sides.
9. K.W. Hometown Real Estate
The timeless, classic look on this sign fits the rest of the downtown. There's a co-working space above called The Elevator because it was intended to house the oldest working elevator in Indiana, but right now it doesn't actually have a working elevator. This is numbers four and five on the Franklin Heritage map. This block used to be home to the G.C. Murphy Store, Kroger Grocery, Whiteside's, Swank's and many more businesses throughout the years. It is still one of Franklin's famous marquee blocks.
10. Greek's Pizzeria and Tapp Room
The sign here is from 2014 and was a completely new design made to mimic a beer tap handle.
11. Artcraft Theatre
Before the current art deco style marquee was in place, the Artcraft had a simple three-sided marquee, which dates back to 1930. Before this, there was an extremely small sign on the facade. This is number two on the Franklin Heritage map.
12. The Willard
Inside this bar and restaurant hangs the old Willard Hotel sign. The building started as a house in 1860, then expanded and became a hotel in 1922. It reopened as a restaurant in 1986 and the original hotel sign has hung there ever since. Originally, the hotel was strategically placed next to an Interurban stop - a streetcar that ran from Indianapolis throughout Indiana. This is number three on the Franklin Heritage map.
13. Ann's Restaurant
Ann's is one of the most iconic Franklin spots. Their original 1960s sign hangs inside, and the current sign refers to the era in which Ann's got its start.
14. 10 Pins
You'll find miniature bowling inside this businesses, which in clearly displayed by their large bowling pin blade sign, installed in 2019. This is number 15 on the Franklin Heritage map. There was previously a very large building here, but that was unfortunately lost to fire in 1996. It was home to a wonderful grocery store called Brown's Market and an opera house that was located on the third floor.
Other stops mentioned on the Franklin Heritage map:
1. Franklin Pharmacy
On north Main Street, the large building that now houses county offices and a parking lot was once the Franklin Pharmacy. It was demolished to make room for a bank and now the county building.
9. McCarty's Bakery
Built in 1919 as McCarty's Franklin Bakery, this building once baked the majority of bread in Johnson County. It is now home of Madison Street Salvage, which share a similar sign size and design.
10. Tavern
This building is now a parking lot and the Johnson County Probation Office, but it was once a block of buildings that housed a tavern, Nick's Candy Kitchen and other businesses.
13. Goodman's
Now home of The Daily Journal and Gray Goat Bikes, this was once many small businesses including the Goodman Jester Department Store starting in 1940.
16. Roselyn & Marsh
Roselyn Bakery was located at the corner of Jackson and Jefferson, currently where Edward Jones Investments is located. The Marsh grocery store is now a parking lot next to the Franklin Farmer's Market.
17. Rothschild's Levi's
Rothschild's Department Store was located at the corner of Jefferson and Jackson and featured a large Levi's mural. This was an example of wall murals that some communities are working to save/relocate.
18. Newkirk's Shoes
Almost all of the Franklin residents at one time purchase their shoes from Newkirk's. This image is an example of a flamboyant neon sign. It was located on the corner of north Main Street and Jefferson Street in a building that was demolished for the current county building.
Haunted Walking Tour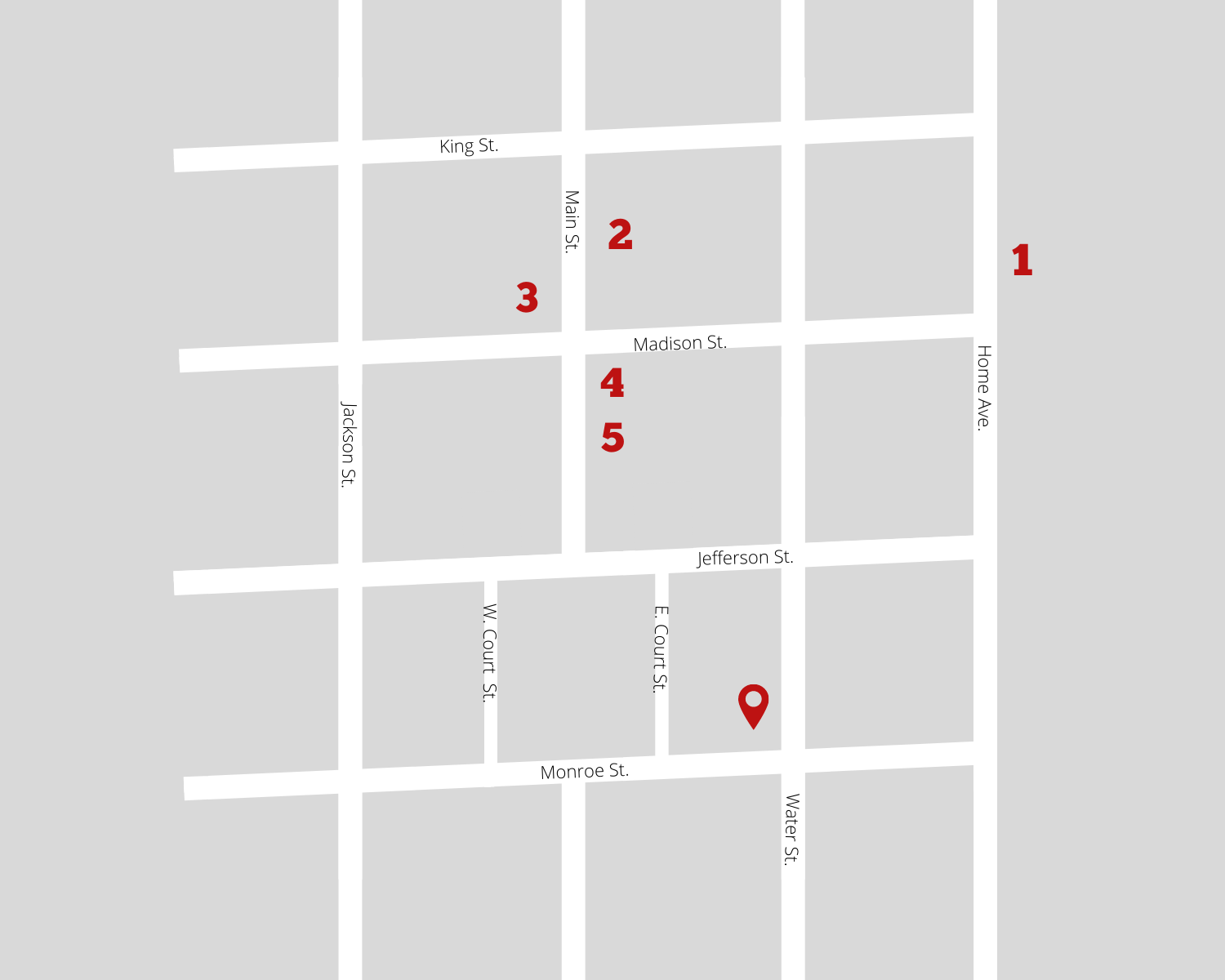 1. Girls, Inc.
This organization provides after school care and resources for girls. A ghost the staff calls "Glenda the good ghost" is said to haunt this building. They have smelled burnt toast, have heard rustling or movement on the stairs and have seen the apparition of a girl.
2. Johnson County Museum of History
One staff member heard a faint whisper in her ear and felt a cold chill. She felt prompted to open a folder she had never opened before. In it she discovered accounts of the "lady in white" in the museum. Freemasons and staff members have encountered her for years, either by smelling her perfume, seeing unexplained light or hearing their names and other voices or sounds.
3. Main & Madison Market Café
This was once the only hospital in the county before WWII. It is said that there has been a strange presence in the basement, which was once the morgue, including a rush of cold air and unexplained thuds. Upstairs, staff have found the windows wide open in the morning even though the building was locked up.
4. The Willard
In 1924, when The Willard was a hotel, one of the owners found her fiancé and her sister having an affair. In a rage, she shut down the hotel and lived there alone for the rest of her life. After she died, the building was turned into a restaurant, but many say her spirit never left. She is said to have been seen and heard haunting the halls, still angry at the betrayal she faced.
5. The Historic Artcraft Theatre
Many people have reported seeing shadow figures, especially in the third row, and have seen seats moving up and down on their own. Some have smelled women's perfume near the stage. Could it be a former actress or past patrons looking to enjoy a show?
Other ghost stories:
Grave in the Middle of the Road
This peculiar gravesite is the resting place of Nancy Kerlin Barnett. It was once a cemetery, but when the county tried to relocate Barnett's grave, her grandson stood armed with a shotgun to keep them from moving it. To this day, it has remained in that spot at 6844 E. 400 South in Franklin.
Candlelight House
This home, located at 5737 E. 100 North in Franklin, is said to have apparitions of people, footsteps, knocking, candles lit at random and spirit sounds and voices. It is said that Otho Henry Pritchard, one of the deceased relatives, scrawled "Otho" on the wall after ghost hunters referred to him as Henry.
America's First Serial Killer
In 1890, Georgiana Yoke moved to Franklin and met her future husband, Herman Webster Mudgett, also called H.H. Holmes. He was sinister, but she was unaware of his plots. He built a hotel and used trap doors and gas to send guests to their deaths in the basement. He murdered countless mistresses and business partners for money. In his final elaborate plot, he murdered a man and his three children. After he was caught and sentenced to death, his wife, Georgiana, returned to Franklin.
Downtown Edinburgh is also home to its own collection of history. Follow this walking tour to discover it in person.
Historic Edinburgh Tour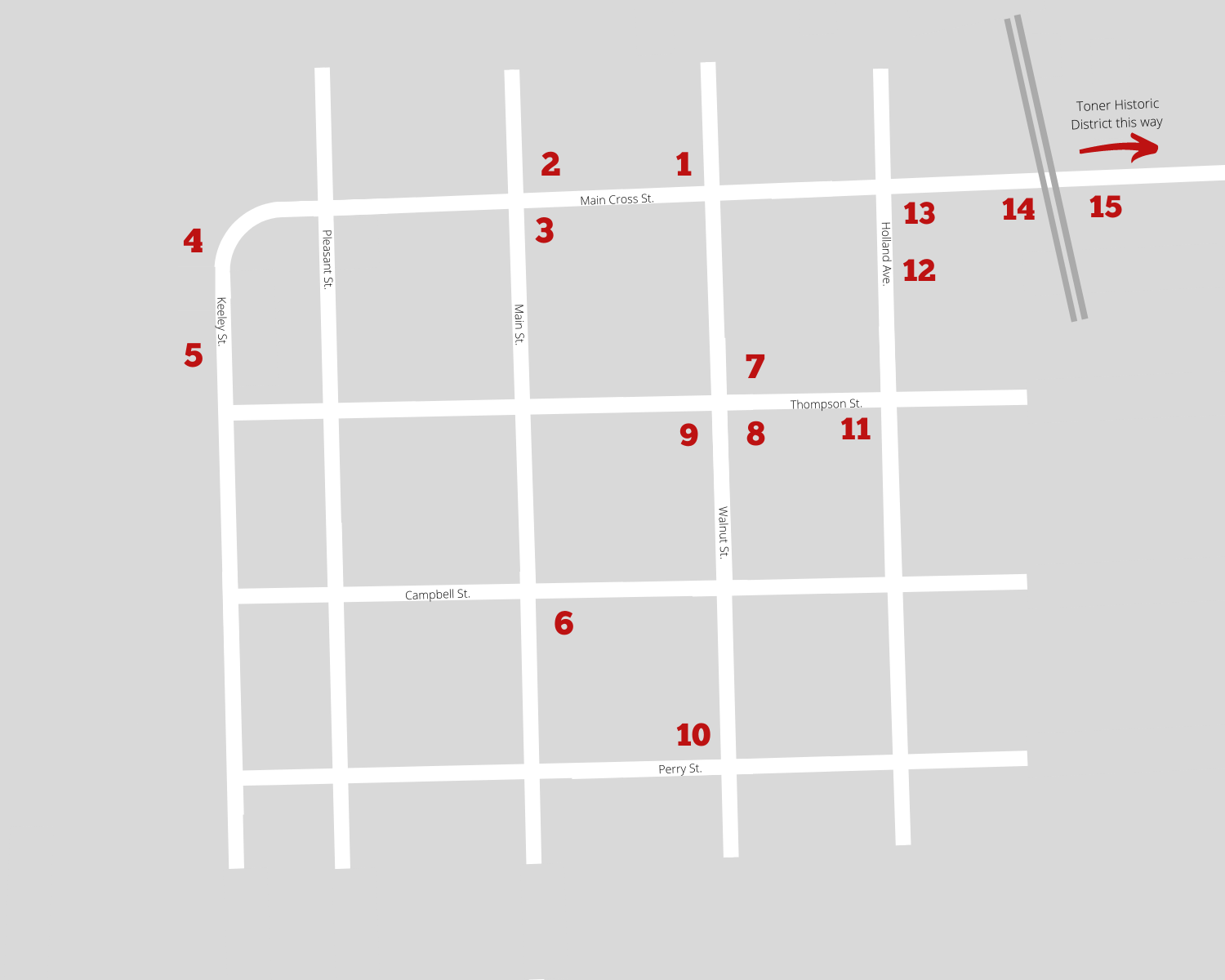 1. Horizon Bank/Thompson Bank
This was built in 1870 for Thompson Bank. John Thompson, owner of Thompson Mill, joined the banking business in 1874. The bank closed in 1890 during an economic depression known as the Cleveland Panic. This was also one of the stops along the Underground Railroad.
2. Interurban Depot
In 1902, Joseph Irwin was granted the right to create an electric railroad in Edinburgh. The Interurban Depot was located here and the car, called the Dixie Flyer, made six trips daily through Edinburgh. The Dixie Flyer ran from Indianapolis to Louisville from 1903 to 1941. Electricity for the route from Franklin to Columbus was generated in Edinburgh.
3. Edinburgh Public Library
This was the first trading post in Johnson County. A 1986 renovation revealed hand hewn logs and showed that the trading post was approximately 18- by 36-feet with two rooms.
4. Holy Trinity Catholic Church
This was built in 1851 out of a structure that stood here. The current church was built for $4,500. The congregation moved into this building in 1883.
5. Edinburgh Schools
The first graduating class at Edinburgh High School was in 1877. The first public grade school in the state opened here in 1856 in a two-story house on Main Cross Street. The building burned and classes were held in various locations, including churches. In 1912, a new school was built on this site. This building was used until 1971 when the middle/high school moved to a new building.
6. Methodist Church
The first Methodist Church was reported to be a framed building located at 204 S. Walnut St., but the congregation moved into this building in 1872.
7. Pixy Theatre
This was built in 1907 for $12,800 by the Masons. It was originally called The Majestic. The Masons occupied the third floor, and the first floor had offices, a 600-seat opera house and a stage. The seats could be removed to provide a dance floor. Many dances were held here in the early 1900s. The building eventually became home to motion pictures and concerts.
8. Edinburgh Fire Station
This property was given to the town in 1915 and was called Eden Park. On Wednesday nights, townspeople gathered to enjoy band concerts. The current fire station was built in the early 1960s and an additional station was built in 1975 on the east side of town.
9. 200 N. Walnut St.
This home was built in 1846 and was a hotel.
10. Christian Church
Built in 1887 for $18,500. This current building replaced a fame structure which was built in 1846. No longer a church, this building is currently privately owned but pending to be owned by Indiana Historical Landmarks, which plans to restore this building.
11. Danzer Specialties Veneer
This started as the David R. Webb Veneer Company in 1909. It is said that Edinburgh had the most international travelers per capita in the state because of those who came to work here.
12. Edinburgh Municipal Utilties
The first electricity in Edinburgh cost .25 per lamp of 16 candle power. The first electricity in Edinburgh was in 1897/1898.
13. Rick Wilson Fine Art
This building was the location of the Central Hotel, built in 1856 by Jacob Toner. Notice the stars on the building? Those are support rods.
14. Railroad tracks
The railroad line ran from Madison to Columbus in 1844 and was completed to Edinburgh in 1845. In the fall of 1847, it was completed to Indianapolis.
15. Cats Plus
This was the site of the Edinburgh Furniture Factory which was in operation in 1868. The building was destroyed by fire in 1873.
Head to downtown Greenwood to learn their history on this walking tour.
Historic Greenwood Tour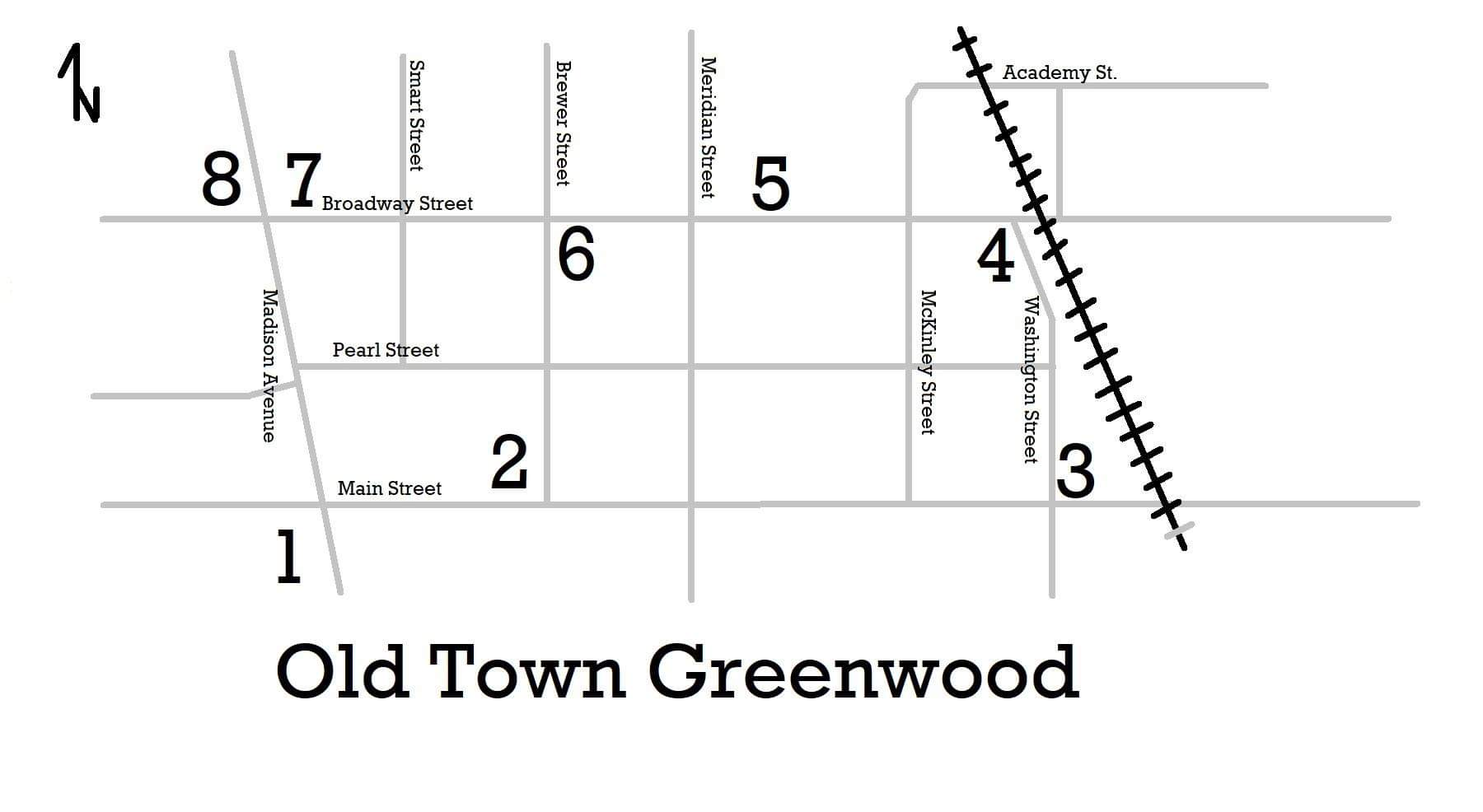 1. Corner of Main Street and Madison Avenue
A post office was established inside a roadside inn at the intersection of Madison State Road and Shelbyville Road, and the town had its first general store in 1846. The oldest existing building in Greenwood was from 1860 and is now home to Revery. The Interurban ran through Greenwood from 1901 to 1940. Unfortunately, in the 1970s, the buildings on the southwest corner were demolished to make way for a banking center (now the City Center). In the 2010s, the southeast block of buildings was saved and most of the buildings in this district received historic facade renovations.
2. Greenwood Presbyterian Church
This was founded in 1825 as the first congregation in Greenwood. They met in a log cabin until 1832, then a framed building, then they moved to a building at the corner of Main Street and Brewer Street in 1853. The current church building was erected in 1898.
3. Corner of Main Street and Washington Street
James and Laura Polk started Polk Cannery after canning tomatoes in their Greenwood kitchen in 1872. Polk's Best canned vegetables were shipped all over the world. Polk's was the largest cannery west of Baltimore at one time. In 1890, Polk's had 700 tomato peelers. By 1942, there were 5,560. Polk also opened a dairy called Polk Sanitary Milk Company which was sold in 1919 after Polk's death.
4. Greenwood Sanitarium and Hotel
In the late 1800s James T. Polk and two others formed a gas drilling company. Eventually, they struck mineral water. A 30-room sanitarium was built for health and mineral baths. The sanitarium had a wrap-around veranda on three sides. The dining room was 50- by 40-feet and used by the town for special dinners. People came from as far as Louisville, Pennsylvania and Chicago and paid $14 to 20 per week for a stay. It burned down in 1914 and was not rebuilt. The pumphouse building remains (299 Broadway) and has housed the Southside Art League since 1990.
5. Isom Elementary School
Greenwood's first school was established with the Presbyterian Church in 1826. The first public school opened in 1864, when Greenwood became a town, but the building burned in 1865. A two-story brick building was built in 1868, but by 1899, a new building was needed. A 12-room building was finished in 1901 and was called Greenwood Central School. In 1928, a new high school building was built where the current school is now but it burned down in 1942. The current Isom Elementary was later built.
6. Triumph Church
This church was the original home of Greenwood Methodist Church, established in 1849. They built it in 1887 and moved into the current church building on Madison Street in 1965. Calvary Apostolic church moved into the old building and has occupied it ever since, though they changed their name to Triumph Church in 1995.
7. 1 N. Madison Avenue
Isaac Reid purchased the land in 1826 from the U.S. Government. The home was built for David and Fannie McGuire Foster in 1891. They were one of the biggest horse team dealers in Greenwood. When the house was complete, it became a boarding house. David passed away in 1920, at which point Fannie decided to build an addition. The house later became a hotel.
8. Corner of Madison Avenue and Broadway Street
James and Laura Polk are often called the greatest citizens of Greenwood because of the jobs they created and money they donated. After James passed away in 1919, he left $75,000 to build a community center. In 1920, the James T. and Laura Polk Community House was opened and contained a community theater stage, basketball court, swimming pool, and the Greenwood Library. In the 1980s, the building was renovated as Greenwood's City Hall. In the 2010s, facing demolition by neglect, the building was renovated and now houses an autism center.
For guided walking tour opportunities, like and follow our Facebook page.