Every year, businesses and homes in Festival Country don their best decorations and create captivating holiday light displays for all to enjoy. Jump in the car and check out these lights. Most displays are on from approximately 6 to 10 p.m. All are free unless otherwise noted.
Franklin
• Downtown Franklin
You can't have the Christmas season without a stroll through downtown Franklin. For the month of December, the courthouse square is illuminated in twinkling lights. It feels like stepping into a Hallmark movie.

• Canary Creek Estates lights
Cruise through this neighborhood for a festive collection of light displays.

Canary Creek Dr. and Mallory Pkwy.
• Oak Leaf neighborhood lights
This neighborhood is full of bright displays.

1075 Oak Leaf Road
• Niagara Lane light show

Tune into 97.7 to hear music synched with this light show.

1250 Niagara Lane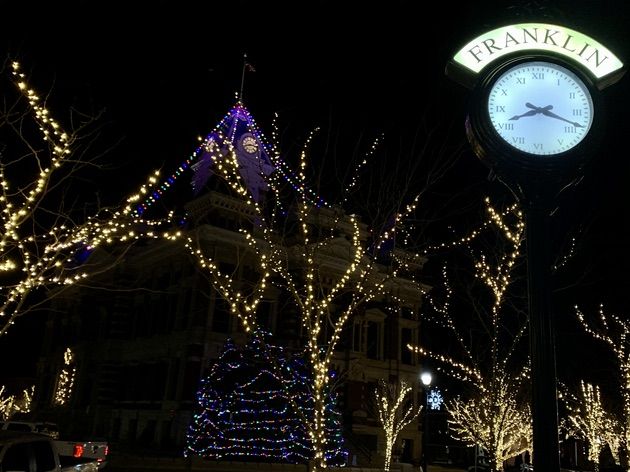 • Martin Place lights
These large historic homes are known for their festive decorations.

Martin Place (right off North Main Street)
There are 50,000 lights set up on this five-acre property. Admission is free, but they're collecting canned goods for the local food pantry. Donations can be left at the end of their front sidewalk.

6211 N. 500 East
• Franklin Lakes lights
Visit many of the streets in this neighborhood for nice light displays.
• Otterbein Senior Life Nativity
See a life-sized lighted Nativity scene on the front lawn.

1070 W. Jefferson St.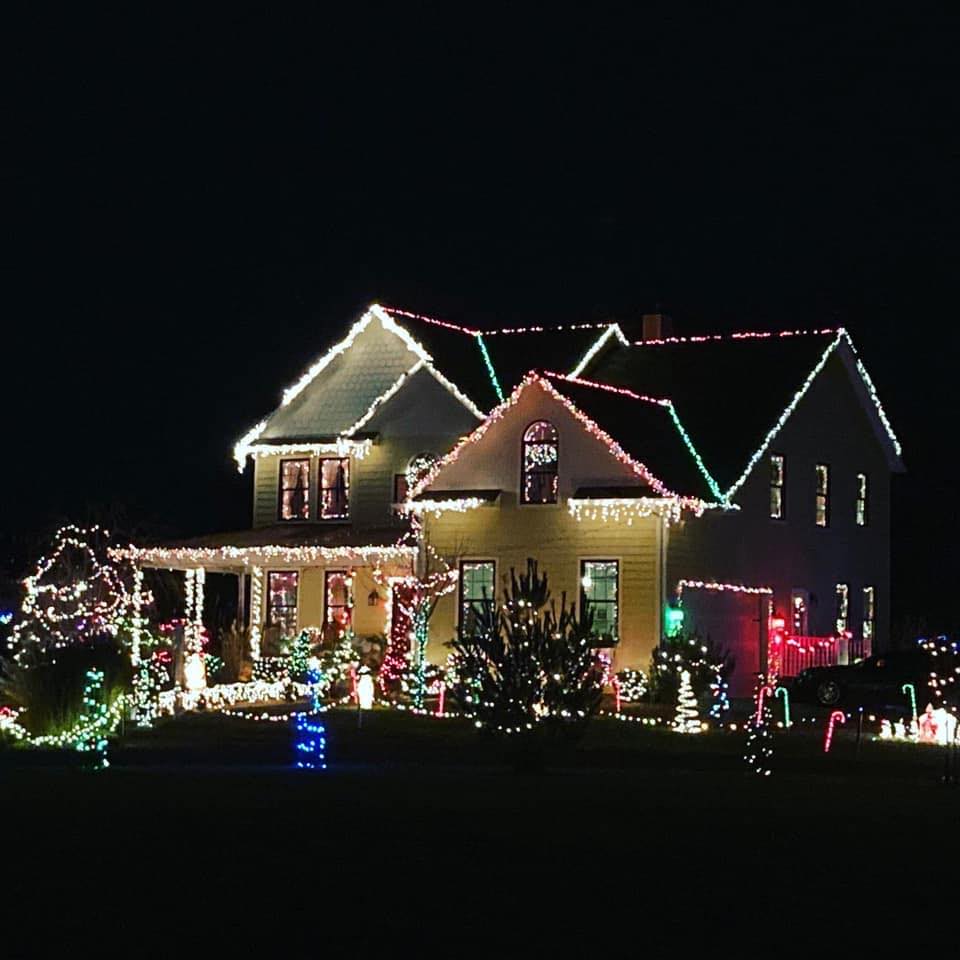 • Heritage neighborhood lights

Visit many of the streets in the Heritage neighborhood for nice light displays.
• Other decorated homes
Homes at South and Jackson St.
Orion St.
Windstar Blvd.
4556 E. 575 North
890 N. 500 East
1855 S. 100 West
1850 Longest Drive
• Holiday Business Decorating Contest participants
This season, Franklin Parks & Recreation is hosting a Holiday Business Decorating Contest for downtown Franklin businesses. Drive along the blocks surrounding the courthouse to see festive displays.

Participating businesses include:

Bay 7 Vintage
Norma Jeans Pastries
Generation Art & Frame
BYTAVI Boutique
Franklin Jewelers
Ann's Restaurant
Farm Girl Mercantile
The Willard
Toodleydoo Toys
The Artcraft Theatre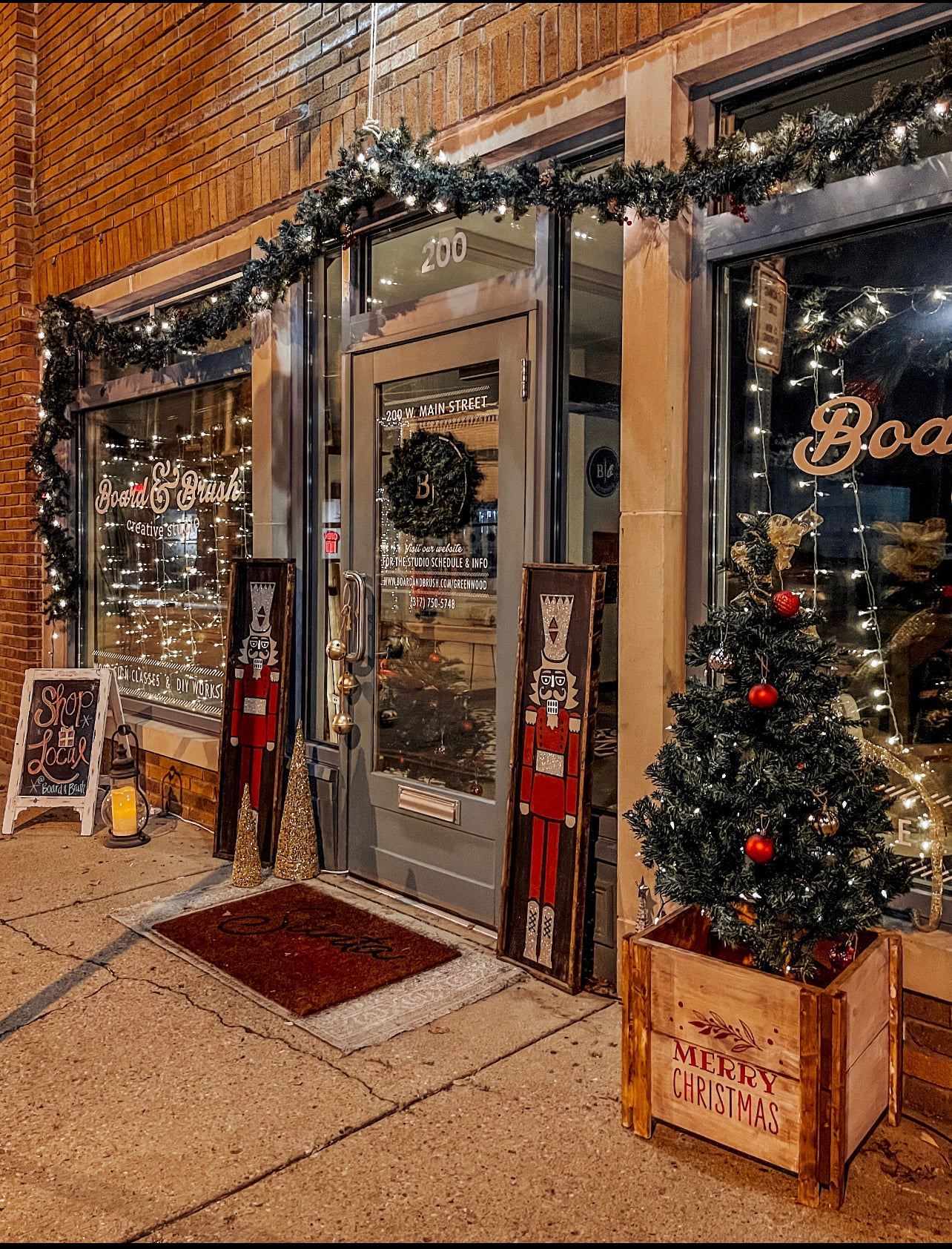 Greenwood
• Restore Old Town Greenwood is hosting a downtown business decorating contest. Drive along Madison Avenue and Main Street to see the festive displays.
Participating businesses include:


Take Root Country Store
Brick & Mortar
Vino Villa
Board & Brush
Internet Computing Solutions
Onyx Studios
• In addition, they also have a downtown home decorating contest going on now.
Participating homes include:


402 Euclid Ave.
399 Euclid Ave.
190 W. Broadway St.
301 Noble St.
555 Northgate Dr.
• Oak Meadows neighborhood lights
Cruise through to enjoy streets full of light displays.

485 Grey Oak Lane
• Middle Street lights
This home has elaborate decorations and also collects Santa letters.

51 N. Middle St.
• Grinch House lights
Enjoy Dr. Seuss themed lights here.

1010 Royal Oaks Court
Also see 1009 and 1020 Royal Oaks Court
• Other decorated homes

50 S. Runyon Road

520 to 875 Green Meadow Dr.
1 to 856 N. Madison Ave.
• Harry Cooler Center
See beautifully lit trees and grounds

944 Fry Road
• Greenwood Amphitheater Lighted Trail
Walk through this lighted trail from December 5 to 31 to see thousands of twinkling lights. Admission is free.

Greenwood Amphitheater – 100 Surina Way

Walk through a decorated path of lights and enjoy treats and hot chocolate. Photos with Santa and Mrs. Claus are available on the weekends. It is open Dec. 10-19 from 5 to 10 p.m.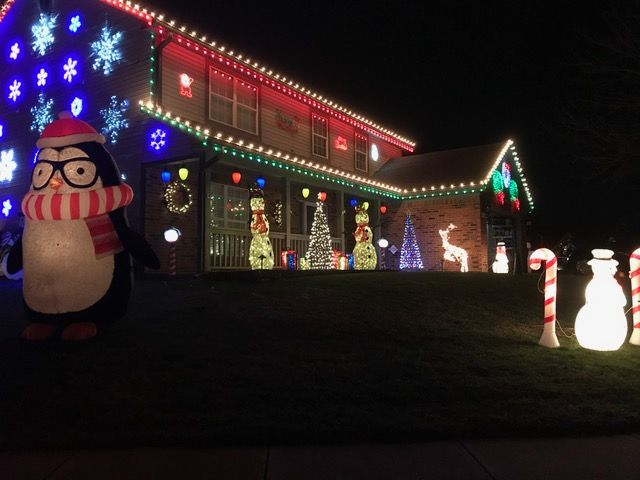 Bargersville
• Tecumseh Way lights
Enjoy thousands of beautiful lights at this home.

3199 Tecumseh Way
• Baldwin Street lights
There are few houses with large nativities, lights and other displays in downtown Bargersville.

South Baldwin Street

Whiteland
• Residential Christmas light contest
Participating homes include:


278 Larimar Dr.
414 Westbrook Dr.
15 Phillips Court
6211 N. 500 East
190 Deborah Lane
430 Colony Dr.
619 Poplar St.
804 Rustic Lane
920 Barmun Dr.
48 Meadow Lane
140 Pinedale Dr.
3187 Bristlecone Court
470 Colony Dr.
302 West St.
200 N. State Road
16 Meadow Court West
4079 Knollwood Ave.
90 Joseph Lane
New Whiteland
• MegaTree

See the 50-foot MegaTree at Tracy Road and Ashland Ave. in Whiteland. This huge LED tree showcases an impressive light display and is free to view.
• Residential Christmas light contest
Participating homes include:


149 Sawmill Road
15 Crestwood Dr.
121 Windemere Road
523 Mooreland Dr.
503 Elmhurst
131 Hilltop
17 Crestwood Dr.
914 Middle Dr.
521 Hollybrook Dr.
1022 Ashland
219 Mooreland Dr.
273 Winthrop
304 Westbrook
275 Bittersweet Dr.
31 Crestwood Dr.
621 Melrose Dr.
749 Sawmill Road
534 Mooreland Dr.
617 Hickory Pine Dr.
320 Northland Dr.
644 Circle Court
507 Hollybrook Dr.
304 Northlane Dr.
70 Oakden Dr.
62 Anjuli Court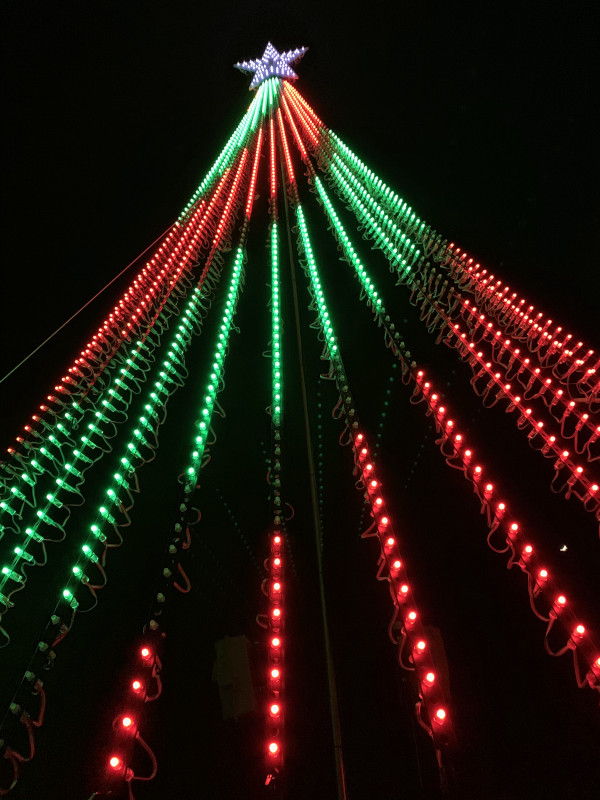 Nineveh
This interactive light show displays more than 500,000 LED lights in sync with music. The light show is drive-thru, but if you head to the shelter house (with a face covering), you can get photos with Santa and the Grinch and enjoy hot chocolate, concessions, kettle corn and a campfire. The cost is $25 per car and it is open from 6 to 9 p.m. on weekends.

Johnson County Park - 2949 North St.

• Nineveh Heritage Committee competition
The Nineveh Heritage Committee is hosting a residential light competition. Stay tuned for final addresses and details.
Edinburgh
• Town of Edinburgh Christmas light competition
Edinburgh residents are decking the halls for the John R. Drybread Community Center Christmas light competition. These are the entries:

Clark Griswold Award: 509 Sunset Dr.
Martha Stewart Would Be Proud Award: 701 S. Holland St.
Historic homes on East Main Cross Street
Town decorations and storefronts on Main Cross Street
Other
Enjoy a drive-thru light show all season. On December 11, there will also be Christmas characters and hot chocolate, and they will be collecting non-perishable food items for Johnson County Senior Services.

7591 W. 600 South, Morgantown

If you know a well-decorated business or house that's not on the list, send the address and a photo (if possible) to marketing@festivalcountryindiana.com. Check out more holiday activities here.