It wouldn't be the holiday season for my family if we didn't take in a holiday concert or show together, shop for unique gifts at a craft fair and enjoy some holiday light viewing.
If you're looking to make memories and enjoy holiday fun, here are 10 ways to enjoy the holiday season just south of Indianapolis. These and more can be found here.
1. One show I'm really excited to see this year is Holidazzle, an original production on multiple dates in December at Stage to Screen Studios in Greenwood. This original production will warm your heart when you see what really happens the night before Christmas.
2. Another show I'm eager to see is the It's a Wonderful Life Radio Play on Dec. 13 and 14 at the Edinburgh Pixy Theatre in Edinburgh. See the holiday classic performed as a radio play by the New Mercury Players.
3. It just wouldn't be the holidays without catching a holiday movie at The Historic Artcraft Theatre in Franklin. This is a classic one-screen theatre that serves Indiana popcorn and has a staff that does fun, interactive games and often dresses up as the movie's characters. This season, the Artcraft is showing A Christmas Story, It's a Wonderful Life and National Lampoon's Christmas Vacation.
4. Another must-see activity is to peruse the one-of-a-kind items at the many craft and artisan shows that take place throughout November and December.
5. If you like holiday lights and decorations, you have got to check out the Holiday House in Greenwood. Each year, from Dec. 1 to 24, this home opens so people can see the 70 Christmas trees, a 212-piece Christmas village, 30 Nativity sets and hundreds of other decorations. There is no cost, but donations to Riley Hospital for Children are collected.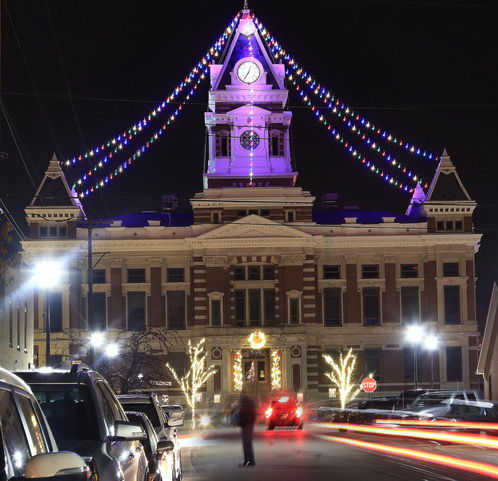 6. If your kid loves Santa, trains, or both, head to Bargersville on Nov. 30 to see the Santa Train and visit with Mr. and Mrs. Claus.
7. Another great tradition is to attend the Winter Market and Holiday Lighting in Franklin on Dec. 1.
8. And if you've never taken your kids (or yourself) to a breakfast with Santa event, there are several to choose from in November and December. There's also a Backwards Dinner With Santa event that should be a blast.
9. Another fun event is the Holiday of Lights on Dec. 8 in Edinburgh . This festive event features carriage rides through the luminary-lit historic downtown, pictures with Santa, cookie decorating, hot chocolate and more.
10. I also enjoy checking out the numerous decorated trees each year at Johnson County Museum. The museum also has an exhibit featuring toys throughout the decades. Double the fun by getting a picture with Santa on Dec. 1 and Dec. 8.
Check the Festival Country Indiana website for numerous holiday concerts and other activities, like a workshop to paint a vintage ceramic Christmas tree, a Live Nativity and a Santa Claus Parade.