JoAnn Houdek has done it all, from selling cars to working as a designer. Now she runs The Shoppe Recreated Treasures in Bargersville and curates a unique collection of antique and salvaged items. Her passion for repurposing and recreating items (like this antique stove or this European pilot ladder) started early in her life. Read on to hear her story.
Q: Tell me your story. What led you to this point?
A: I never had any experience or schooling for this. I just loved it and learned a lot throughout the years. I've done so many jobs. I've sold cars, worked for the county auditor's office, worked for Glidden as a designer. I've done it all. My best skill is sales. I'm honest and won't try to sell any junk.
Q: How did you end up with your own place in Bargersville?
A: I'm from Indianapolis, then my husband and I moved to Franklin and now we're in Greenwood. I have almost always had booth space at some point. My friend started with The Shoppe booth in Fountain Square and brought me into it. We ran that for years before I had any store of my own. I eventually ended up here in Bargersville when a friend opened up a salvage store. Later it became mine and my husband's and we run it now. He fixes a lot of things too and helps run the place.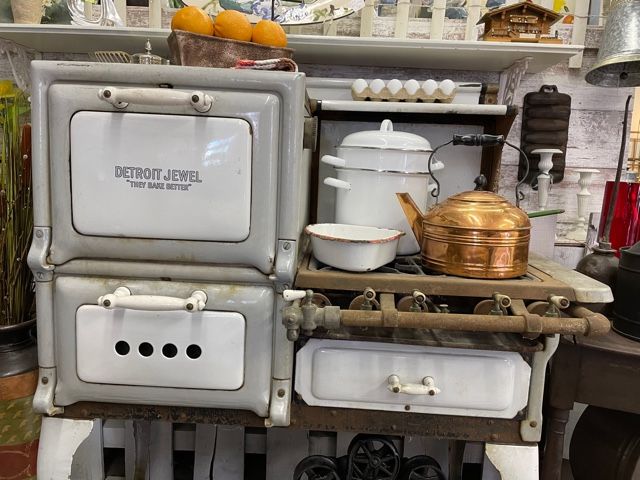 Q: What inspired you to start an antique shop?
A: I've been interested in making things and building and creating since I was a little kid. I always knew this was what I wanted to do. My whole life I've been fixing and making things, but I officially started in the antique business when I was about 28.
Q: What's your favorite part of this business?
A: I love finding antiques. Going out and hunting and looking for new items is my favorite. I've always loved doing things like that, even when I was a kid.
Q: What advice do you have for anyone who wants to start their own business?
A: Be prepared to work 24/7. It's hard work, but it's good.
----------
Visit JoAnn at The Shoppe Recreated Treasures
located at 291 E. Two Cent Road in Bargersville.