The holidays wouldn't be the same without enjoying our favorite traditions. In Festival Country, that means gazing at sparkling light displays, finding the perfect gifts at a craft market, visiting Santa and choosing your own tree from a local farm. Here's how to make your holidays merry and bright just south of Indy.
Ice Skating at the Franklin Amphitheater
There's a brand new way to experience the season in downtown Franklin. A 1,000-square-foot synthetic ice skating rink will be open at the amphitheater from Nov. 16 to Dec. 9. Hours are 5 to 9 p.m. Thursdays (closed Thanksgiving); 5 to 10 p.m. Fridays (with extended hours of noon to 10 p.m. on Friday, Nov. 24); noon to 10 p.m. Saturdays; and noon to 8 p.m. Sundays. Bring your own skates or use the ones provided. Experience this winter oasis for just $5 for an hour of skating (skate rental included).
Discover Old Town Greenwood Holiday Open House
Kick off the holiday season at the annual Discover Old Town Greenwood Holiday Open House on Nov. 17 and 18. Get special discounts at local businesses, shop from craft vendors at the Mistletoe Market, take photos with Santa and The Grinch, and enjoy kids activities and crafts. Finish it off with the first-ever lighted parade through Old Town Greenwood at 5:30 p.m. on Nov. 18. and a tree lighting at Folktale Greenwood at 7 p.m.
The Holiday Stroll
Head to Kelsay Farms to stroll through the farm for a magical holiday experience. See larger-than-life decorations, relax amongst twinkling lights and sip cocoa by a cozy campfire from Dec. 1 through 23. There will also be a live Nativity and other fun features. Tickets are required and we recommend purchasing them in advance.
Holiday Lighting & Winter Market
On Dec. 2, downtown Franklin will transform into a Hallmark-worthy wonderland with an indoor and outdoor craft market, a lighted parade, live music, food, warm drinks and the official lighting of the courthouse to conclude the night.
The Lighted Trail
Open from Dec. 2 through 31, the amphitheater park path in Greenwood becomes a festive trail filled with holiday lights and decorations. Explore the trail for free from dusk to dawn.
Movies at the Artcraft
The holiday season wouldn't be complete without seeing a classic film at The Historic Artcraft Theater in downtown Franklin. They show favorites like White Christmas, A Christmas Story and Elf; serve local popcorn and have fun, interactive activities before the show to make it an experience like no other. Tickets sell quickly, so we recommend purchasing them in advance.
Live Musical Tribute to Charlie Brown
Speaking of The Historic Artcraft Theater, they'll be hosting an evening of live Christmas music favorites with Jerry Navarro and Friends performing Charlie Brown Christmas on stage on Dec. 21. Reserve your spot here.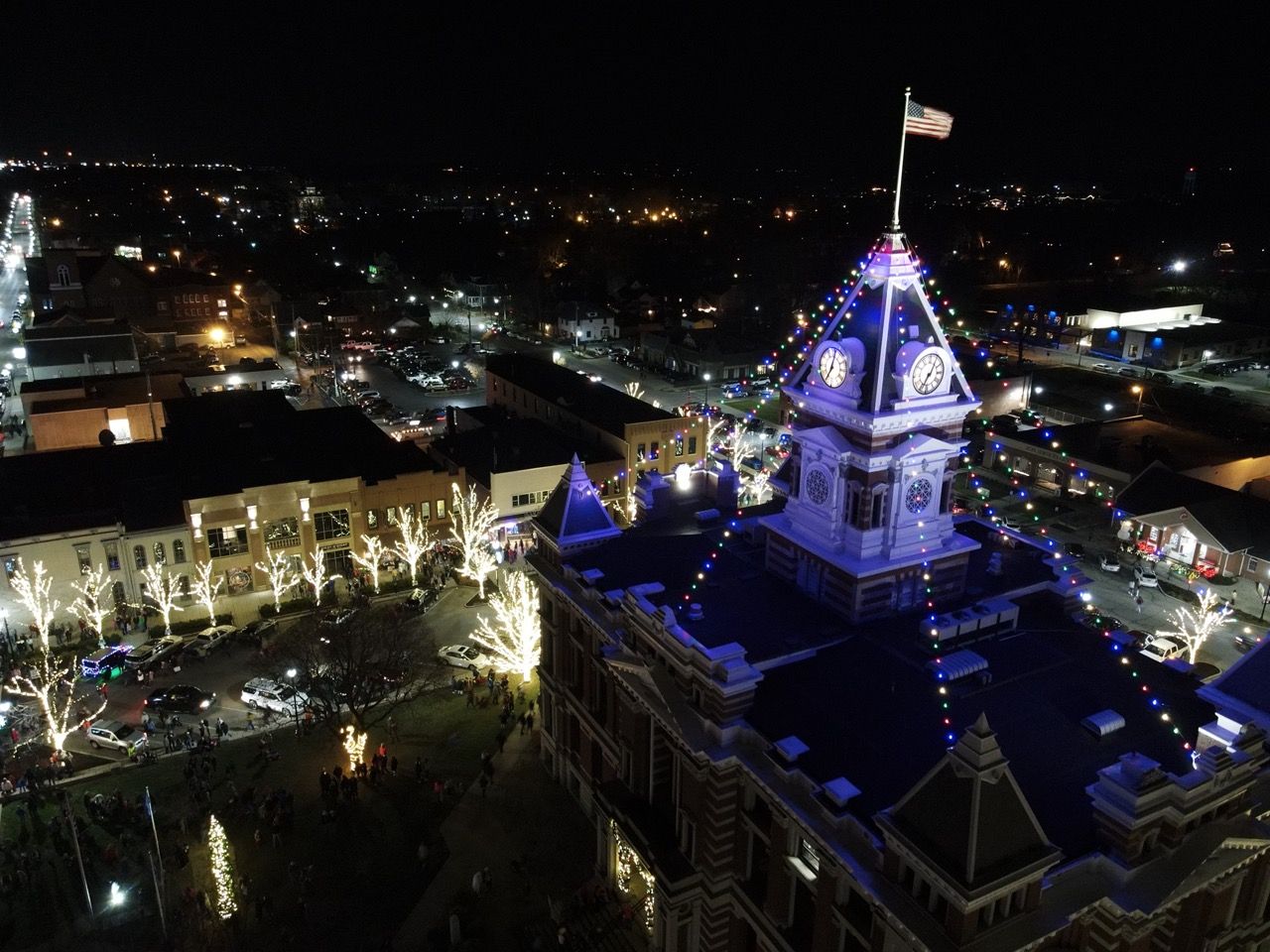 Santa Train and Christmas Market
On Dec. 1, Santa, Mrs. Claus and their helpers will come rolling into downtown Bargersville on the Santa Train. Kids can have the chance to meet and take a photo with Kris Kringle himself. There will also be live reindeer, a choir, a winter market and free hot chocolate and cookies.
Edinburgh Holiday of Lights
Downtown Edinburgh will celebrate the most wonderful time of the year on Dec. 9 with carriage rides through their historic downtown, a visit with Santa, a parade, a holiday market, a Christmas show and shopping at downtown stores. Carriage rides require tickets in advance, but the rest of the event is free.
MegaTree
Stop and stare at this 50-foot electronic tree that showcases a dazzling light show. The show runs from Nov. 27 to Jan. 8 when it's dark.
Dec-a-Tree
Stop by the Johnson County Museum of History to see dozens of beautifully decorated trees and vote for your favorite. The trees will be on display on the top floor of the museum from Nov. 28 through Dec. 29. The museum is open 9 a.m. to 3 p.m. Tuesdays through Fridays, and 10 a.m. to 3 p.m. Saturdays. Santa will also be visiting the museum on Dec. 2 and 9.
Christmas at the Farm
Hop in the car and head to Christmas at the Farm on Dec. 16 for a drive-thru experience with a light show set to music, holiday characters and hot chocolate. If you can't make it that day, the drive-thru light show will stay open through Dec. 31, just without the holiday characters and hot chocolate. There is no cost, but they will be accepting non-perishable food items to donate to Johnson County Senior Services. Another great drive-thru experience on Dec. 16 is the Festival of Lights and Live Nativity in Bargersville with decorated homes, photos with Santa, carolers and more.
Christmas Acres
Another fun way to enjoy lights from the car is with a stop by Christmas Acres in Franklin. This private residence decks the halls with more than 60,000 lights from Nov. 22 to Dec. 25. It's free to enjoy, but they will be accepting canned goods for the local food pantry.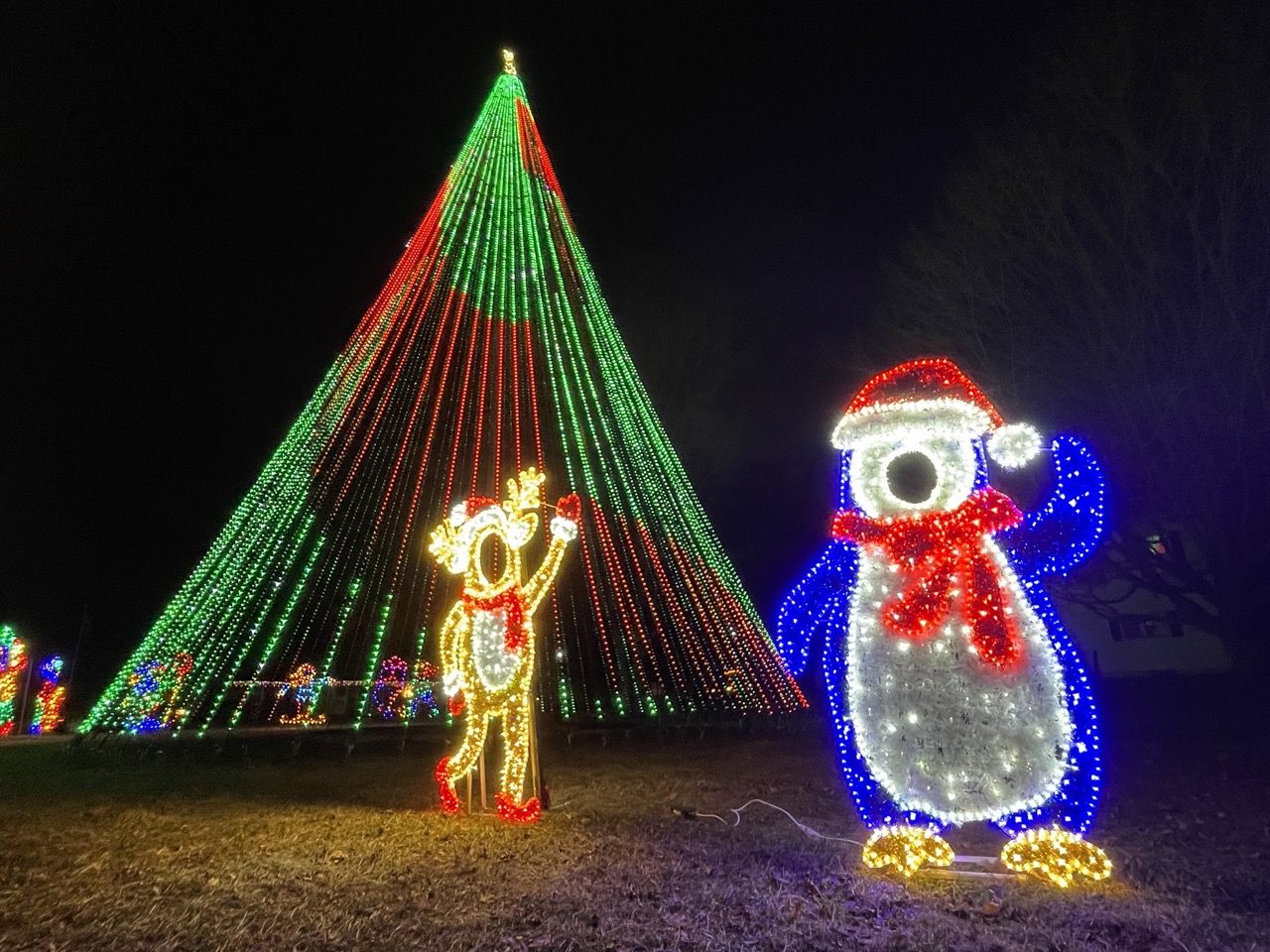 Visits with Santa
Visit Greenwood Park Mall or Toodleydoo Toys for the chance to see Santa and take a photo. Dates and times vary by location. Find more Santa visits here.
Christmas tree farms
Stroll through the farms to find that perfect Christmas tree. On Nov. 25, visit The Wildes for live music, warm drinks, a mercantile shop and plenty of trees to choose from. Other tree farms where you can cut your own tree include Peiffer Tree Farm and Trees from DeHart. Find pre-cut trees and decorations at Welch's Holiday Farm and Jenkin's Farm Market. Learn more about local Christmas tree farms here.
Holiday concerts
Hear the joyous sounds of choirs, bells and holiday cheer at concerts throughout the Festival Country. If you're looking for a symphony, check out the Messiah Singalong on Dec. 17 featuring songs from Handel's Messiah performed by vocalists, musicians and a conductor. Find more performances here.
Holiday markets
Shop small and find unique gifts at the same time. From handmade jewelry to rustic home décor to pet treats, the perfect gifts are waiting to be discovered at holiday markets throughout Festival Country. Here are a few highlighted markets. Scroll through our event page to find them all.
Christmas Market at the Mercantile at Farm Girl Mercantile on Nov. 18

Greenwood Holiday Craft Fair at Greenwood Community High School on Nov. 18
Handmade + Heartfelt Festival at The Sycamore at Mallow Run on Nov. 19

Holiday Craft Fair at Ray Crowe Elementary on Dec. 2

Candlelight shopping at local shops in downtown Franklin on Dec. 9

Hoosier Handmade Craft Fair & Winter Market at the Johnson County Fairgrounds on Dec. 16

Extras
There are even more activities like Merry Prairie, breakfasts with Santa, and live Nativity events to fill the season with fun. Find the full list here.
Make a weekend of it by staying overnight in Festival Country.